Theft is a major source of loss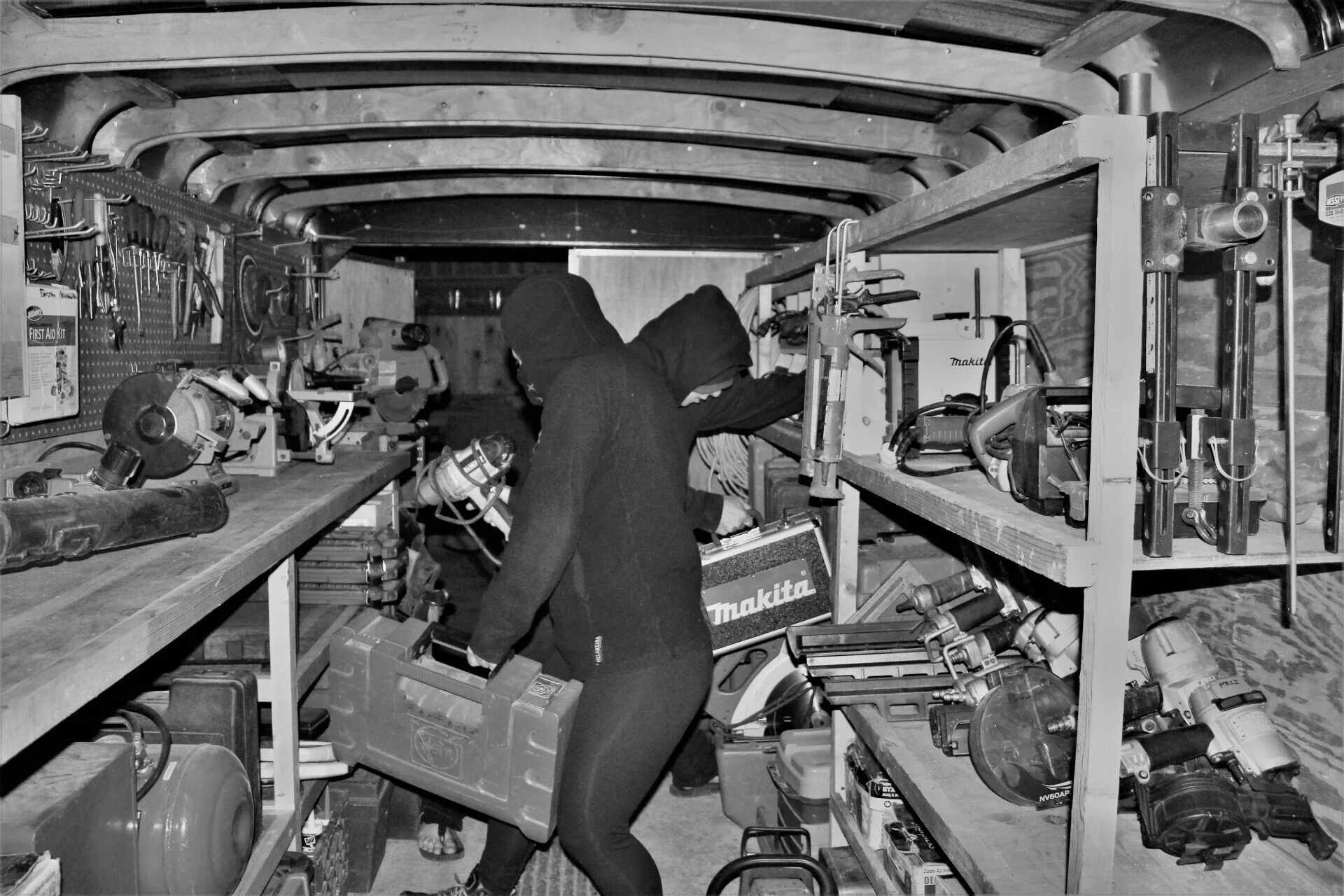 • Stolen tools
• Lost time
• Lost wages
• Lost work production
• Lost money
Every year, the building industry loses over 1.5 BILLION dollars in materials, equipment and tools to construction theft. It's time to change that.
Are you ready to do something about it?
BUILT TO FIGHT THEFT
• Know exactly what you have
• Know exactly where it is
• Make them afraid to steal it
• Make them afraid to sell it
• Catch them when they do
Become part of the solution with PowerTool Safe™
UNDERSTANDING THE CYCLE OF THEFT
Theft affects everyone.
Information is power, and the most powerful way to fight theft is by sharing the right information with the right people at the right time. That's what we do best - at every step and every intersection. We are that information network.
STRONGER TOGETHER.
Register your tools with PowerTool Safe™ and become part of the information network designed to put a stop to theft..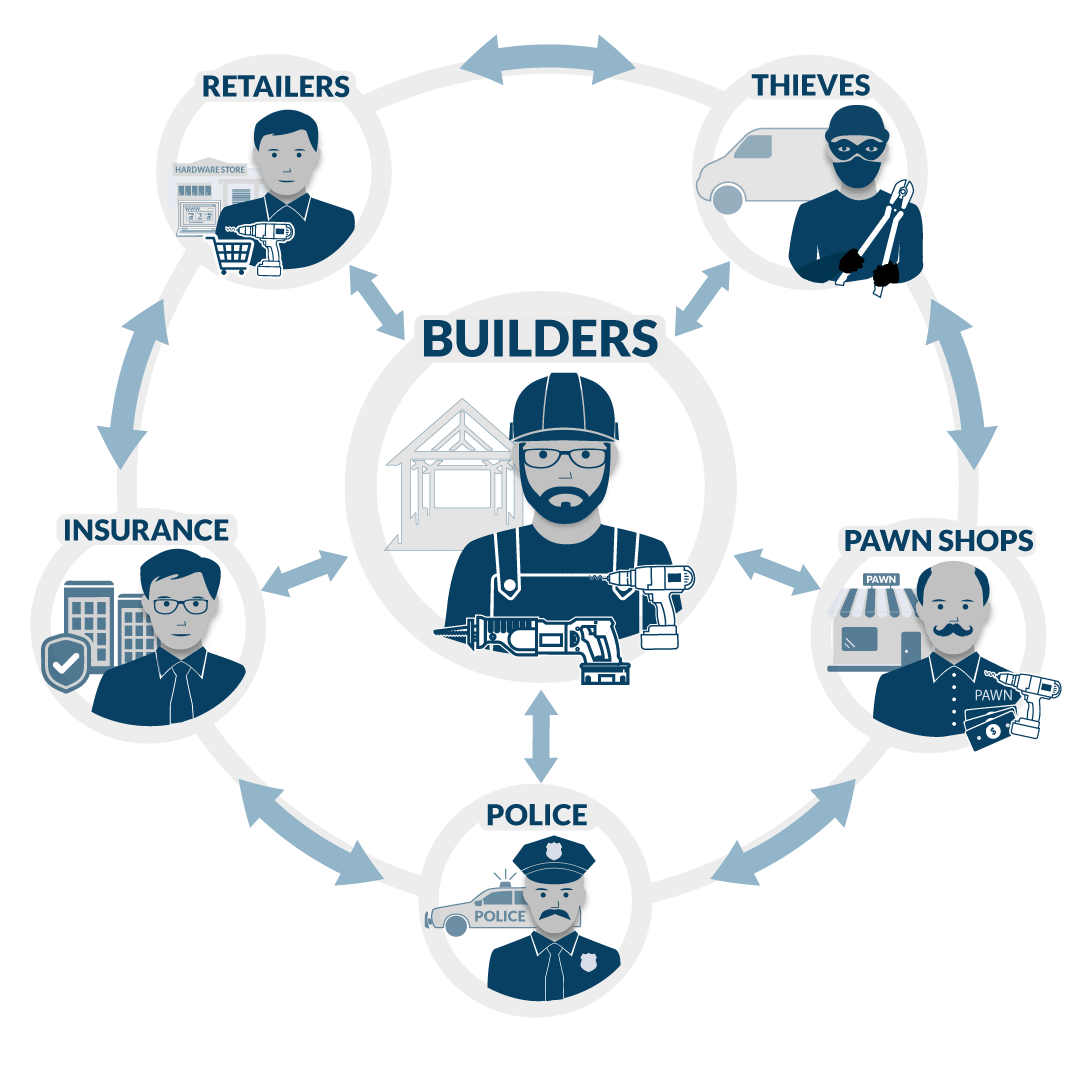 When you have the right information to share, more people can help you.
PROTECT THE EQUIPMENT YOU RELY ON WITH GOOD RECORDS.
Automatically create tool records straight from the box.
Whether it's a single tool or a kit, photograph the receipt, serial numbers on the box, and the UPC/Barcode. We can do the rest.

CREATE THOSE RECORDS STRAIGHT FROM YOUR PHONE
If you can capture the Brand, Model and Serial Number in two photos,
we can complete your records for you.

WORK SMART. NOT HARD.
SAVE TIME WITH OUR CATALOGING SERVICE
Take pictures. Leave the rest to us. Our tool cataloging service ensures accuracy, saves you time, and eliminates headaches. From your photos, we will complete your tool record by filling in:
• Brand
• Model
• Serial Number
• Tool Type
• Description
• Purchase Price (MSRP)
If you entered a receipt, we will also include:
• Purchase Date
• Actual Purchase Price
• Vendor
• Receipt Total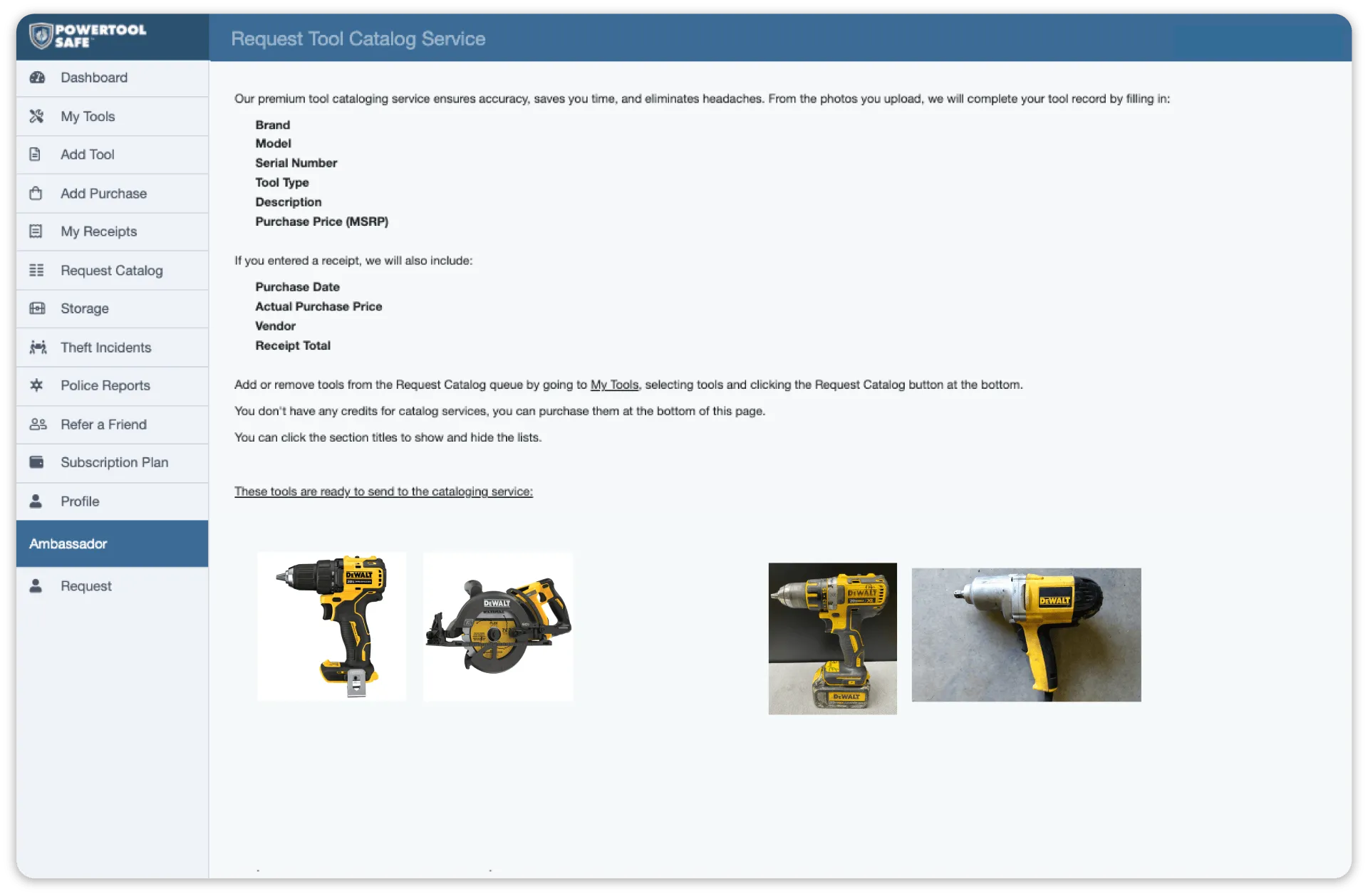 ORGANIZING YOUR INFORMATION HELPS YOU MANAGE YOUR TOOLS LIKE A PRO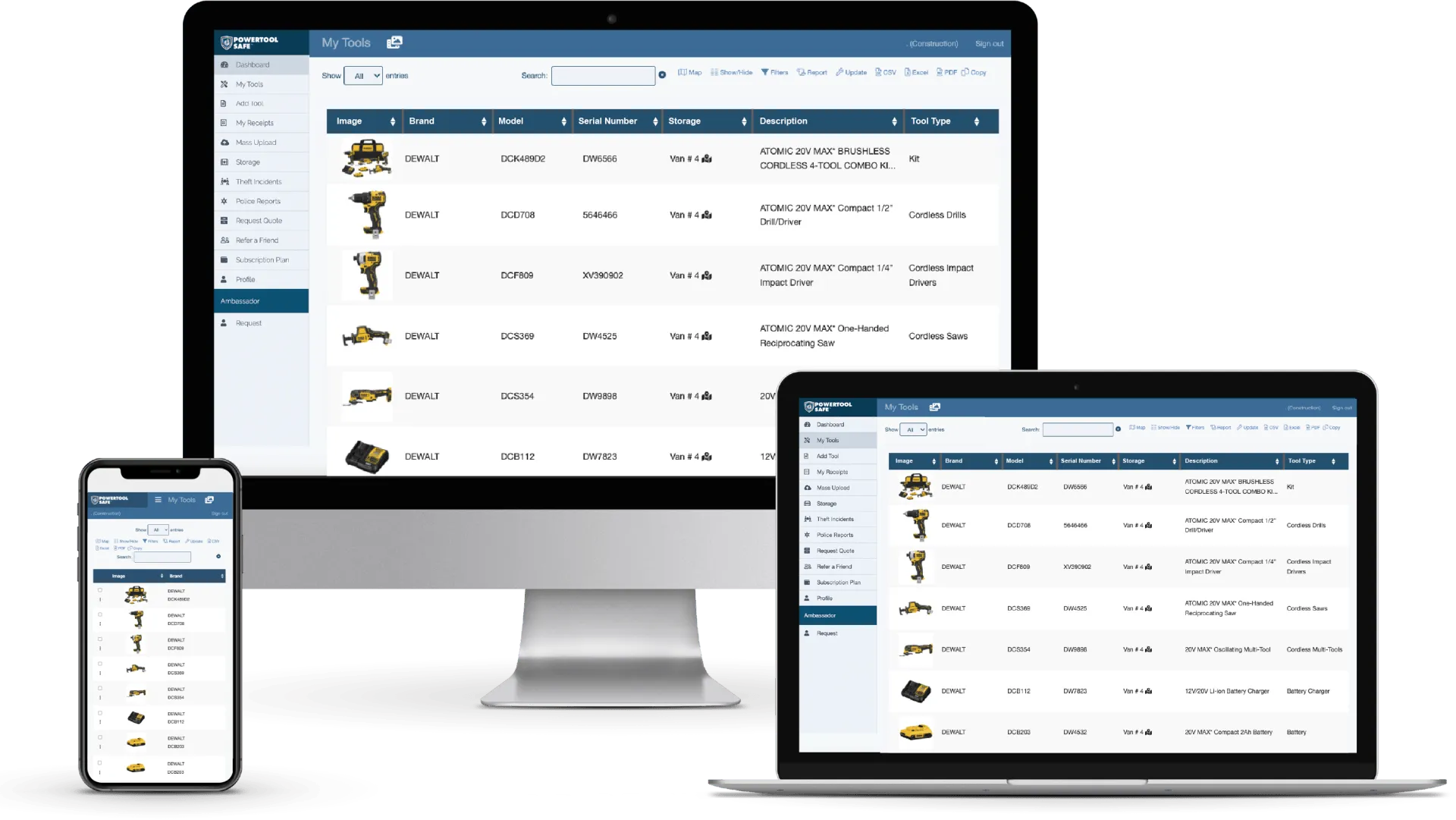 GAIN COMPLETE TOOL MANAGEMENT
• Track Warranties
• Access Tool Manuals
• Locate Replacement Parts
CUT YOUR LOSSES WITH GOOD RECORD KEEPING
Organizing your tools and creating records is the best way to say, "DON'T MESS WITH ME."Make them think twice. When people realize you are organized, they are less likely to help themselves to your hard-earned goods.
TOOL TRACKING SHOULDN'T END WHEN YOUR PROBLEMS BEGIN
PowerTool SafeTM is everything you need to track the tools with legs.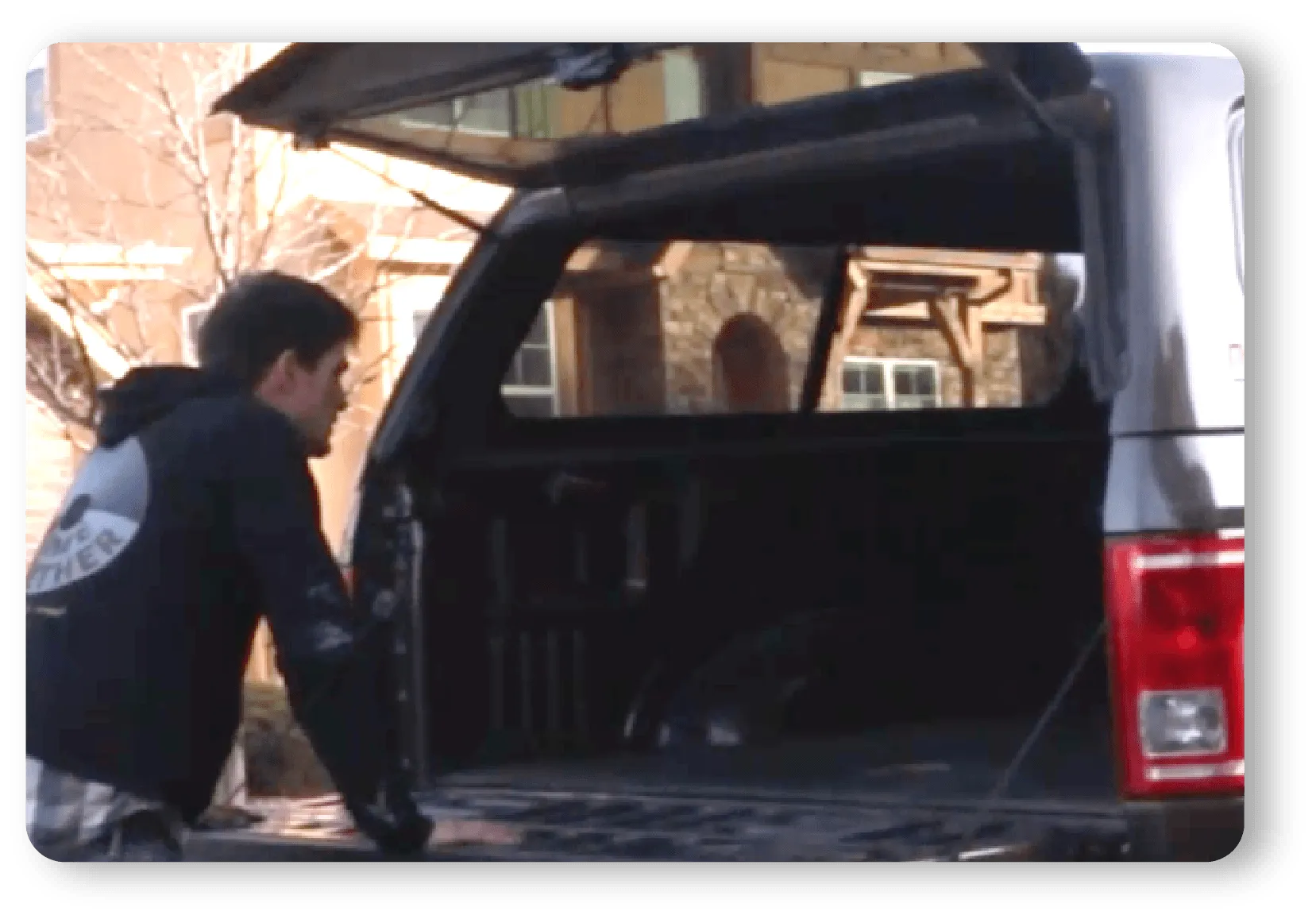 POWERTOOL SAFE™ IS REAL-WORLD TOOL TRACKING
Nobody has a right to your hard-earned equipment. Protect your equipment and your business by creating the records you need to #StickItToTheBadGuy.
GET EVERYTHING YOU NEED
WITH

Complete tool tracking for construction professionals.
FREE Account
NO Credit Card Needed
Register up to 10K worth of tools for free.
Pro Account
$30 per Month
Register an unlimited amount of tools.
Includes unlimited storage points.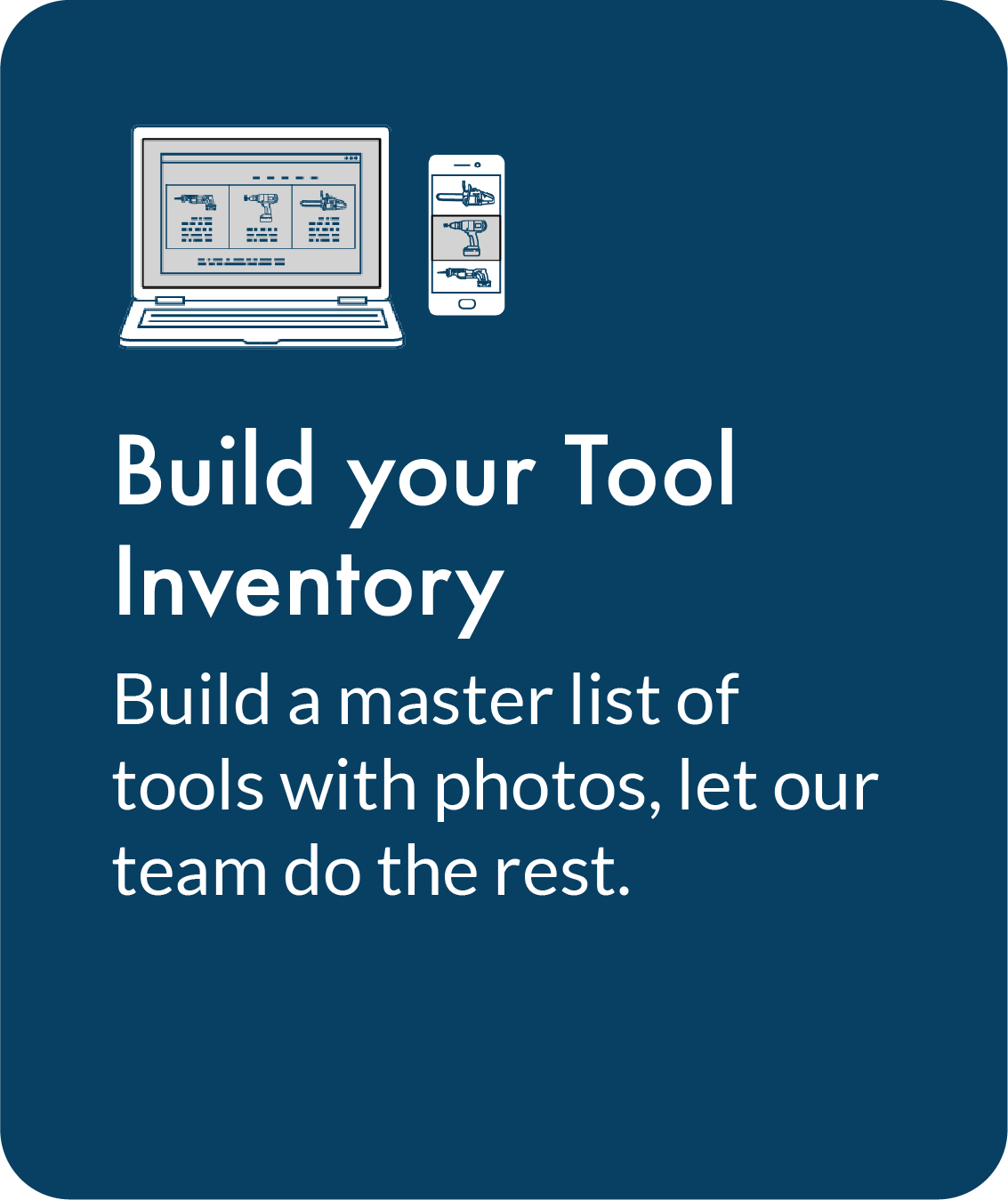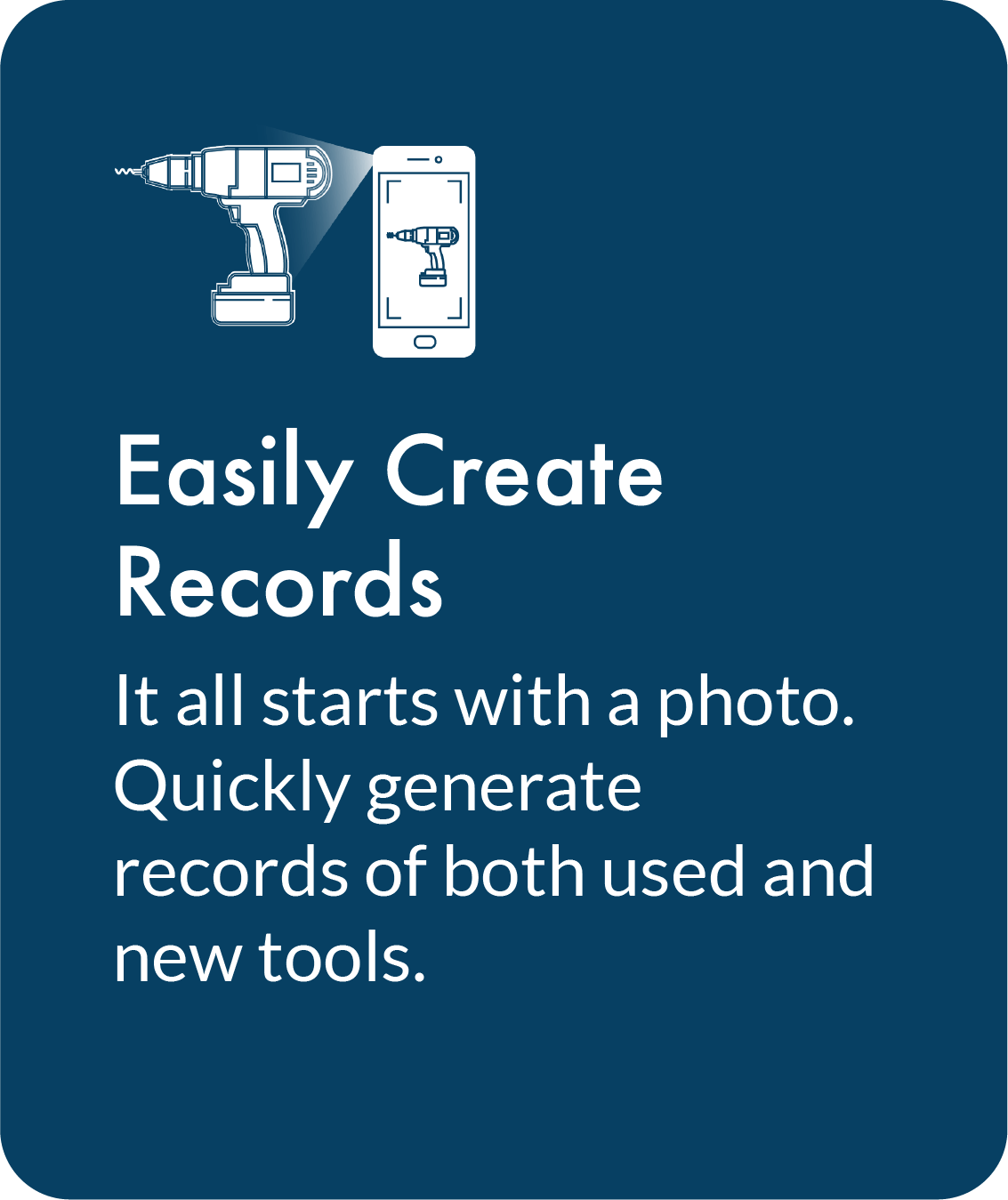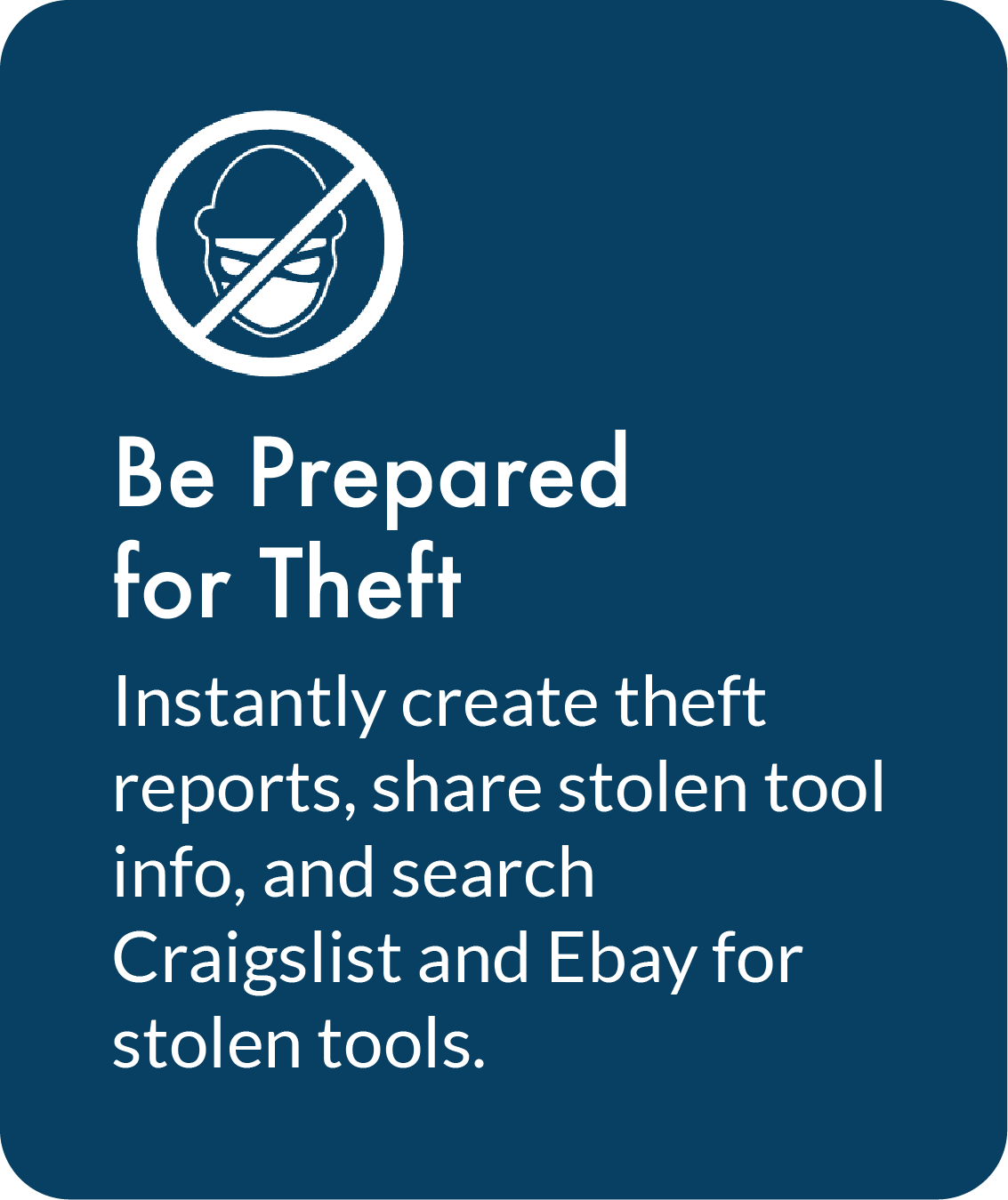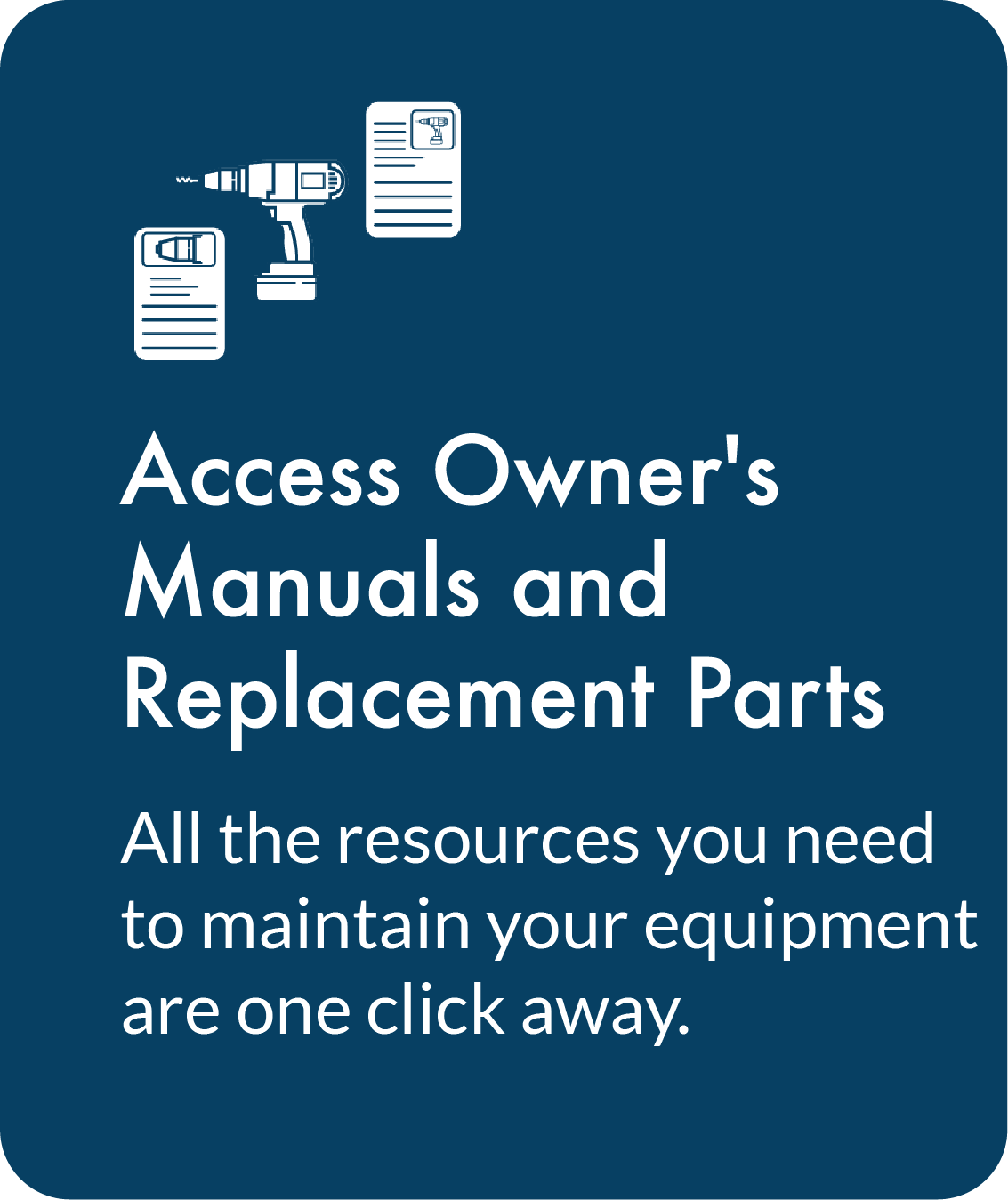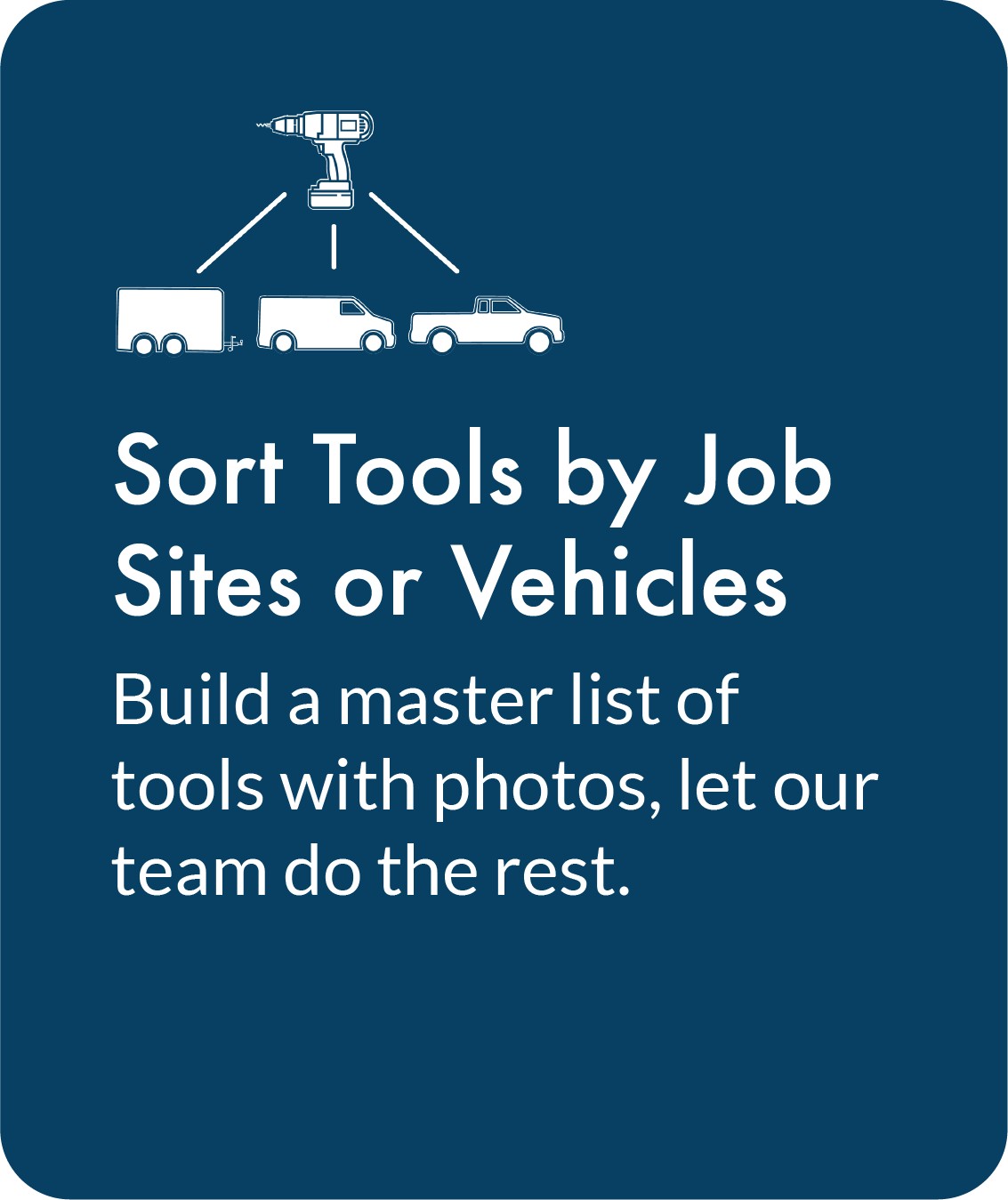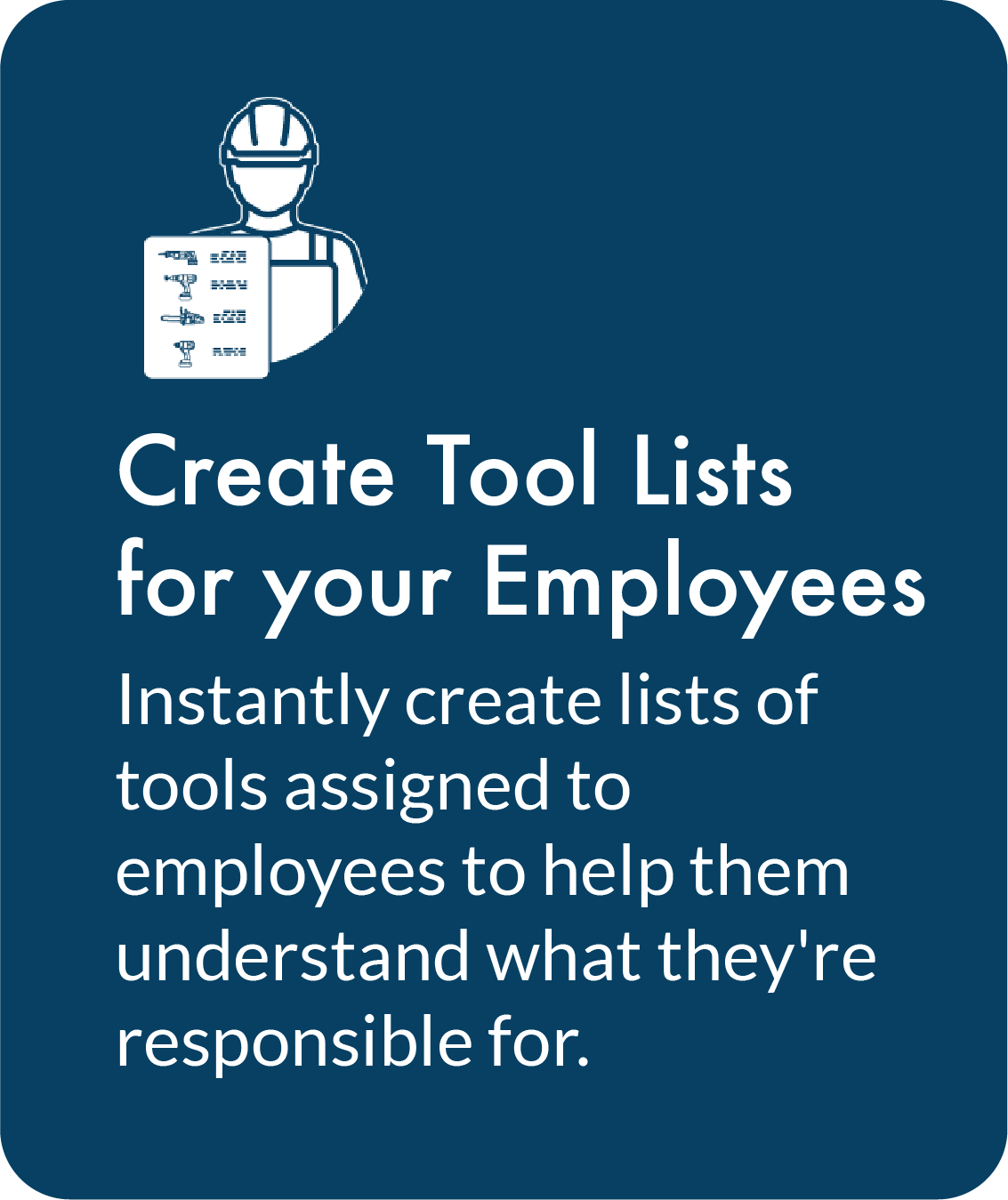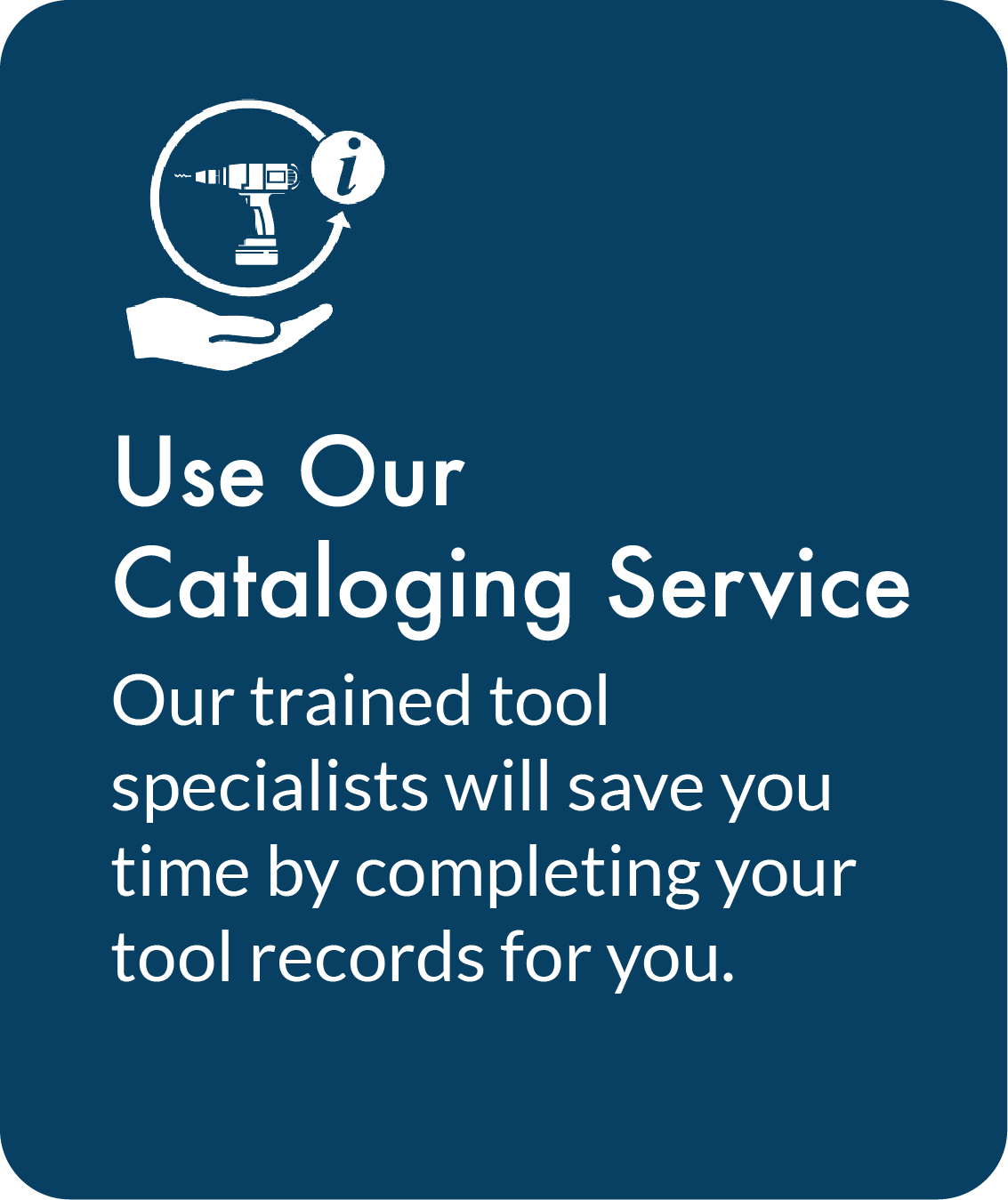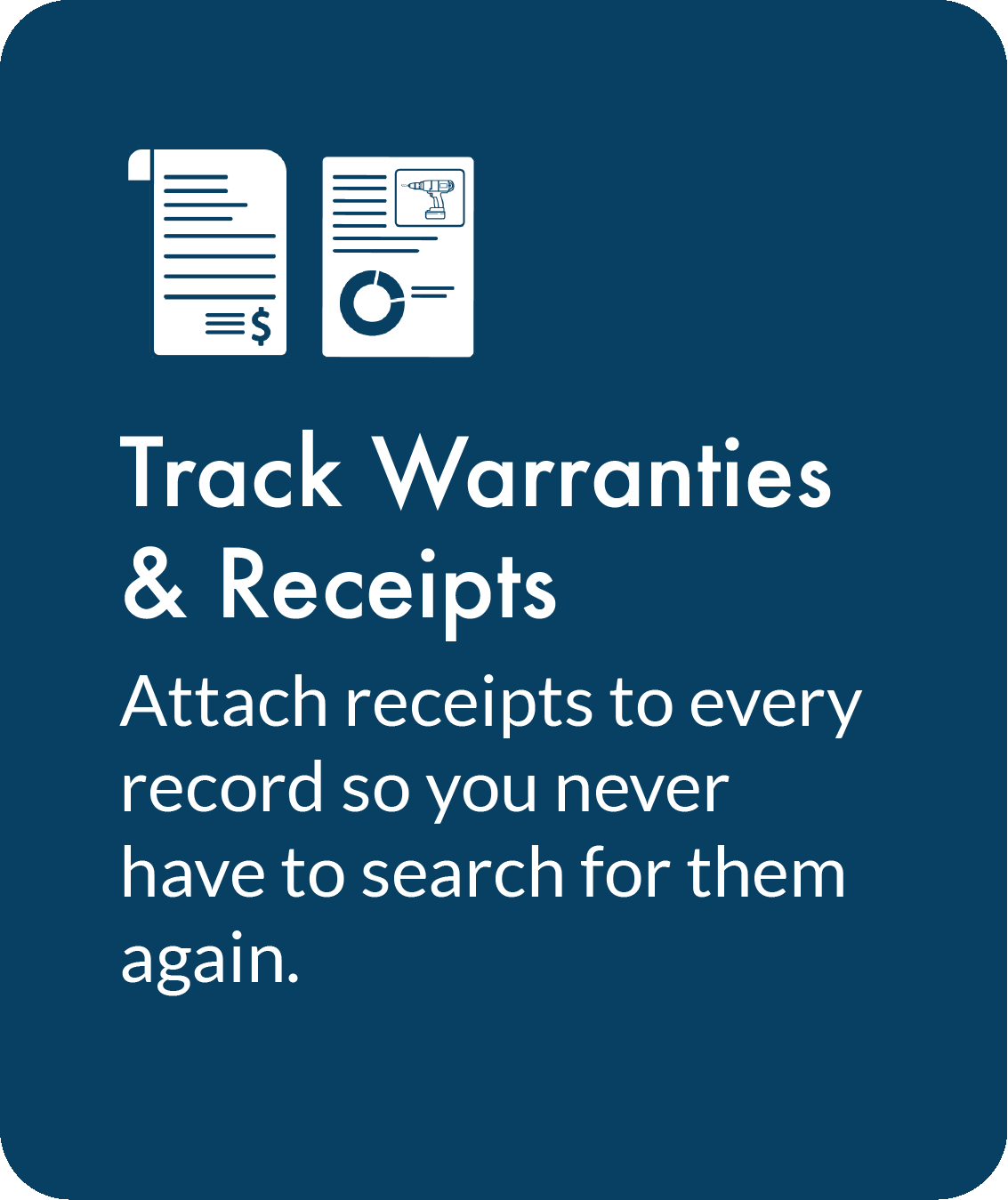 FAQs
Got a question? We're here to help.

PowerTool Safe™ offers the most efficient way to collect all the information you need to create tool records and organize all your equipment in one place. Designed by builders for builders, our list of features is everything you need to maintain and protect the equipment you rely on.
How does PowerTool Safe™ work?

By using photographs and our own database with over 20,000 items, PowerTool Safe™ uses A.I. technology to scan upc's and QR codes and automatically generate tool records. We also offer a first-of-its-kind Tool Cataloging service to save you time.
How much does PowerTool Safe™ Cost?

Register up to $10,000 in tools for absolutely free. Over 10K, Pro accounts are $360 per year (monthly) or $300 per year (one time payment) and include the ability to assign tools to multiple storage points.
What does it take to create tool records?

If you can take pictures with your phone, then there is nothing stopping you from getting the benefits of tool tracking.
What is the best way to protect my tools?

The best way to protect your equipment is to lock it up. The second best way is to KEEP GOOD RECORDS.
What others are saying:
DESIGNED BY BUILDERS FOR BUILDERS
We know how valuable your time is. We know you show up to work every day loaded to the gills with expensive tools necessary to get the job done. That's why we designed an entirely new platform that lets you upload all your tool photos and leaves the rest to us. We organize your photos and fill in all your tool information so that managing your equipment becomes a breeze. Once your photos are uploaded, we'll send you "Warning, Contents Registered with PowerTool Safe™" stickers for your work vehicles and job trailers. Letting the world know not to mess with you can save time and money and cut your losses. Start today and get the peace of mind that only comes with being organized and prepared.
Save Time and Money
Having all your records in one place makes it simple to share information. With the click of a button, generate an accurate, detailed list of your equipment and send it directly to your insurance agent. Having a schedule of equipment can save you hundreds annually on theft insurance. In today's Industry, theft is an ever increasing threat. Having your information organized and all the tools you need to report your losses give you an incredibly effective plan of action should you experience the unthinkable.
• Time Saved
• Money Saved
• Equipment Organized
• Having a Plan of Action In Place
• Peace of Mind Achieved
Stolen Tools
Experience Theft Annually
Tool Tracking is not just "Where are my tools?"
You know the importance of taking care of the equipment you rely on to earn an honest living. Occasionally tools break and require repair whether they are under warranty or not. Having instant access to purchase receipts can save you hundreds of dollars annually in expensive repairs.
Whether you are an individual or a company with several employees, keeping your equipment in good shape and in your possession can seem like a daunting task. When you join PowerTool Safe™, we do all the heavy lifting for you.
As you grow your company and add employees, your investment in them also means an even greater investment in equipment. Having the ability to instantly hand an employee a full list of the tools assigned to them empowers you to hold them accountable and ensure your tools don't walk off.
Successful businesses understand the importance of organization. Having the instant ability to provide a full detailed list of your equipment can earn you substantial savings on theft insurance. Some of our customers save thousands of dollars annually with this feature.
Successful businesses also rely on communication, flexibility, and teamwork. Shouldn't your tool tracking do the same for you? If you experience loss, having instant comprehensive reporting with the capacity to search Craigslist and E-Bay for your goods is just the beginning. Our online database is available to law enforcement and pawn shops so that we can all work together as a team to bring your hard-earned equipment home to you.
Your peace of mind is our business.
Did a store give you a transfer code when you bought your tool?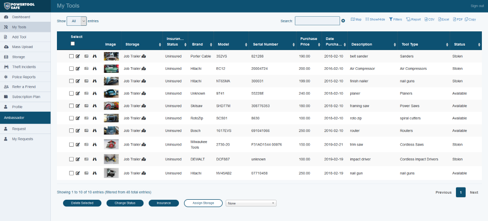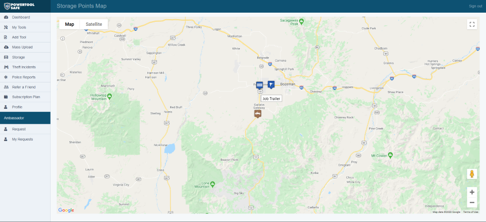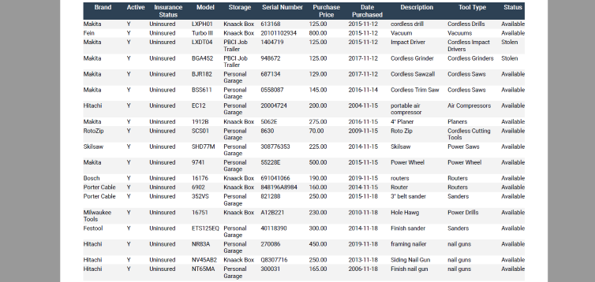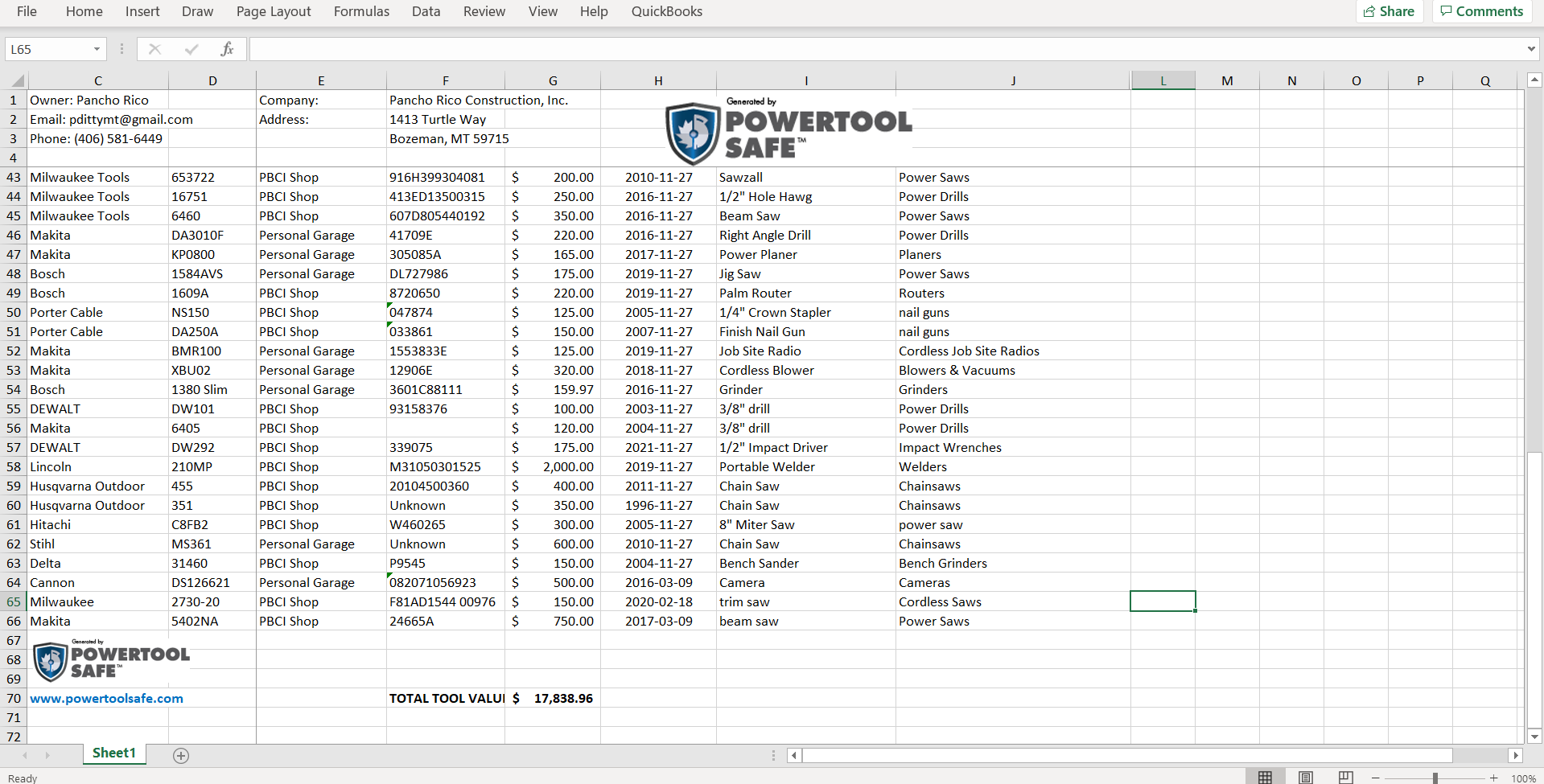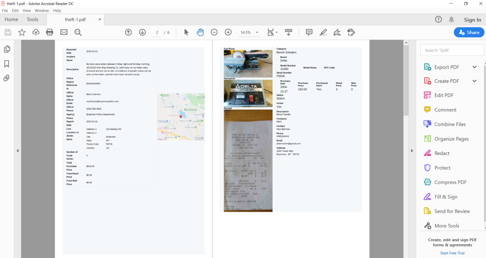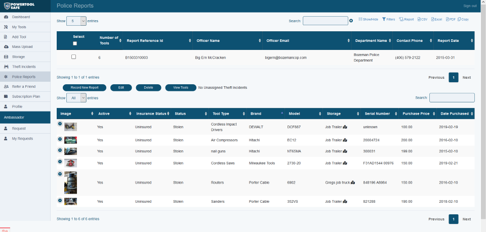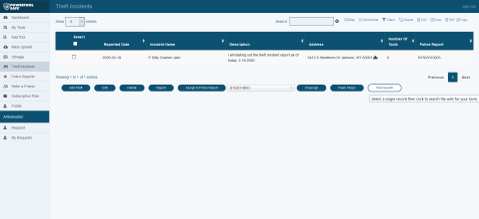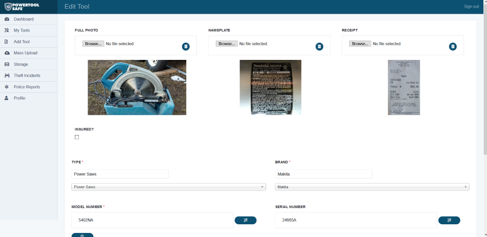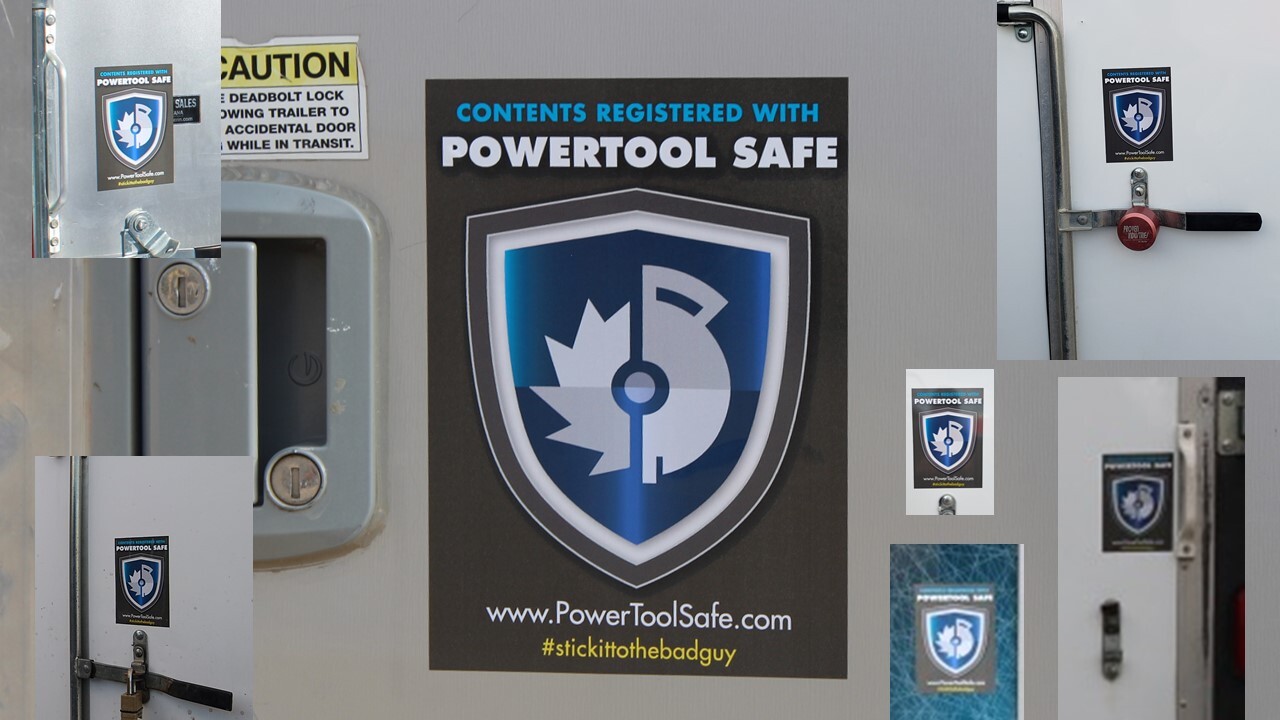 Know exactly what you have
Know exactly where it is
Accountability
Save on insurance
Create Theft Reports
Attach Police Reports
Search for your stolen goods
Purchases and Warranties
Deter Thieves
Save Money and Reap The Benefits
PowerTool Safe pays for itself with the reports you need for substantial savings on Theft Insurance. Download Excel spreadsheets to get scheduled rates on Theft Insurance instead of paying the high cost of standard stated value policies. PTS sets you up for years of savings!
Jobsite trailer with 60 tools
Total tool and equipment value
$22,400.00
Inland Marine stated value quote
$621.25
Inland Marine scheduled rate quote using PTS reporting
$224.00
Total Savings
$397.25
Minimum cost for 1 year subscription
$300.00
Yearly savings
$97.25
A detailed list saves hundreds in insurance
Inland Marine is the type of insurance rider that covers tool theft in the US. There are two types of Inland Marine policies, stated and non-stated. Non stated policies are more expensive because there is no information provided to the insurance company about the specific tools that company is insuring. PowerTool Safe gives you the tools for substantial savings on Theft Insurance. Built in reports allow you to customize spreadsheets that get you better rates on Theft Insurance. You can instantly email these reports to your Insurance Agent. Imagine the savings you are setting yourself up for year after year with PowerTool Safe.
When a builder whose equipment is insured takes a loss, that builder shares their loss with the insurance company. When that builder has a full detailed list of their equipment, they can report their losses, and insurance companies know exactly what tools they are insuring, and now have the documentation they need to help recover stolen goods. This offsets their loss. The original insured builder will be reimbursed the actual cash value of the tools and will still have to come up with the difference between the retail value of the new tools and the ones that were stolen. Their losses have been buffered by Insurance.
Save Money and Reap The Benefits
PowerTool Safe pays for itself with the reports you need for substantial savings on Theft Insurance. Download Excel spreadsheets to get scheduled rates on Theft Insurance instead of paying the high cost of standard stated value policies. PTS sets you up for years of savings!
Jobsite trailer with 60 tools
Total tool and equipment value
$22,400.00
Inland Marine stated value quote
$621.25
Inland Marine scheduled rate quote using PTS reporting
$224.00
Total Savings
$397.25
Minimum cost for 1 year subscription
$300.00
Yearly savings
$97.25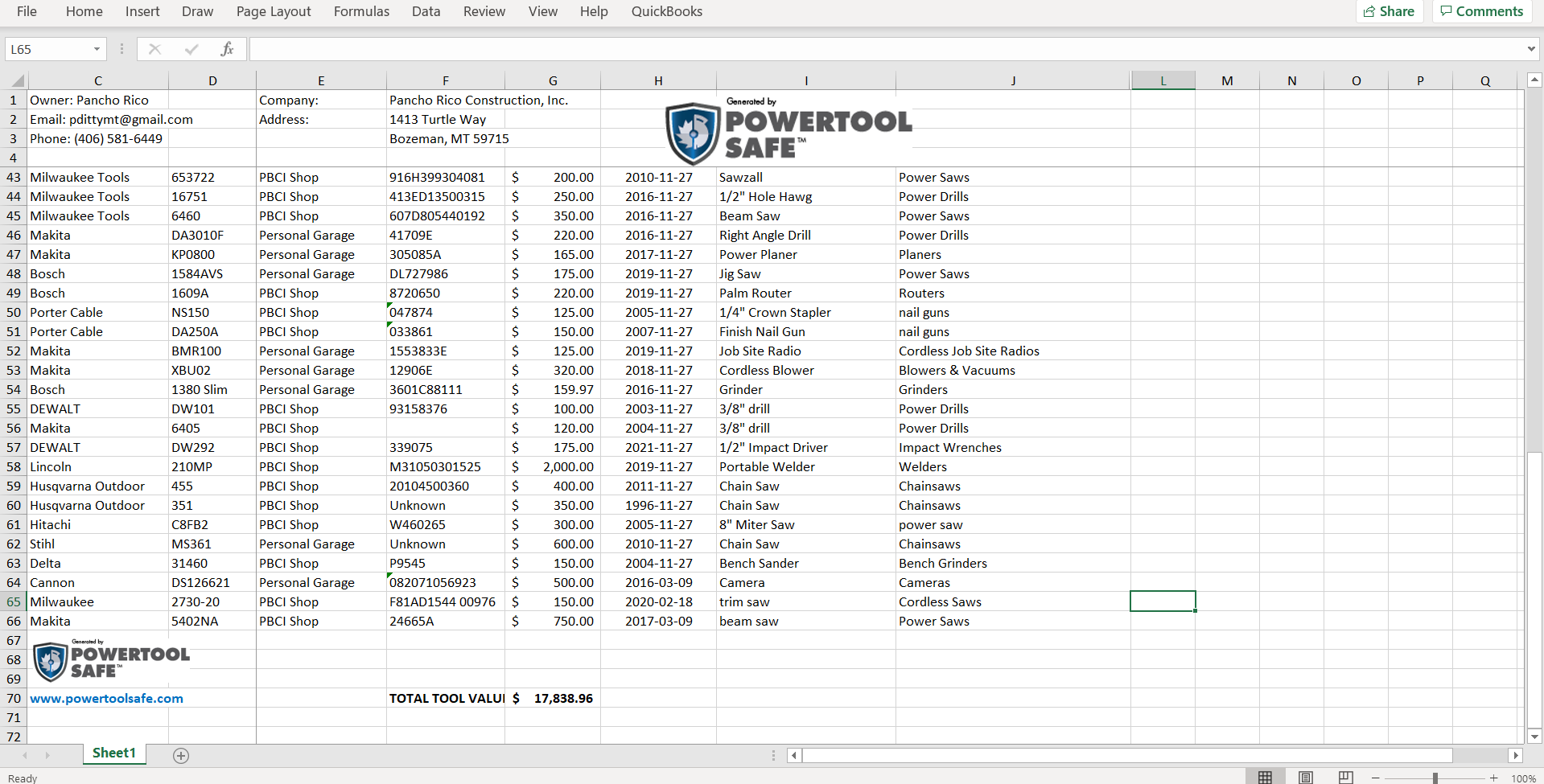 Does jobsite theft cut into your bottom line?
If you've ever had a jobsite robbed, you know what kind of sting that can leave. The sad reality is, construction theft affects more than just builders and contractors. Law enforcement agencies and officers, insurance companies, and pawn shops are all part of the cycle.
We know. We've been there, that's why we developed a "Whole-System" approach to offer you a program that's bigger than just tool tracking. At PowerTool Safe, we are Tool Tracking WITH Protection offering you peace of mind and a Plan of Action that's always ready when you need it most. With PowerTool Safe, don't be another theft statistic. You need to be prepared and have the right tools to fight back. Can you afford any more losses during these uncertain times? Sign up today FOR FREE and see how quickly and easily you can set yourself up for success.
Tool Theft Affects Everyone!
• Contractors lose their livelihood
• Pawnshops lose by purchasing stolen tools
• Law Enforcement loses time spent tracking down thieves
• Insurance companies lose time processing claims
• Retailers lose time printing receipts for customers
PowerTool Safe Protects Everyone!
Have a PTS Ambassador Come Do the Work for You!
Don't have the time to spend cataloging your tools? We've got a program for that! Our Ambassador program matches local independent construction contractors to companies that need help getting their tools recorded.
A trained and insured construction professional will come to your site.
Ambassadors have been previously vetted for quality and service.
PowerTool Safe performs the back end processing to fill in the data for your tools based upon the submitted pictures.
Get up and going in a few days!
The service pays for itself in insurance savings.
With PowerTool Safe, you can:
Inventory
Simply take a photo of your tool, enter in the serial number, description, receipt if available, then add it to your toolbox.
Track
Keep track of where every tool is located. See it on a map.
Organize
Organize your tools by brand, model, insurance status, usage, date purchased, price, and dozens of other ways.
Protect
Put the "Protected by PowerTool Safe" sticker on your trailers or vehicles and let thieves know they won't be able to sell the contents.
Stolen Tools
Experience Theft Annually
Don't get caught in a loss.
Now more than ever, you need to protect your assets. Let us help you #stickittothebadguy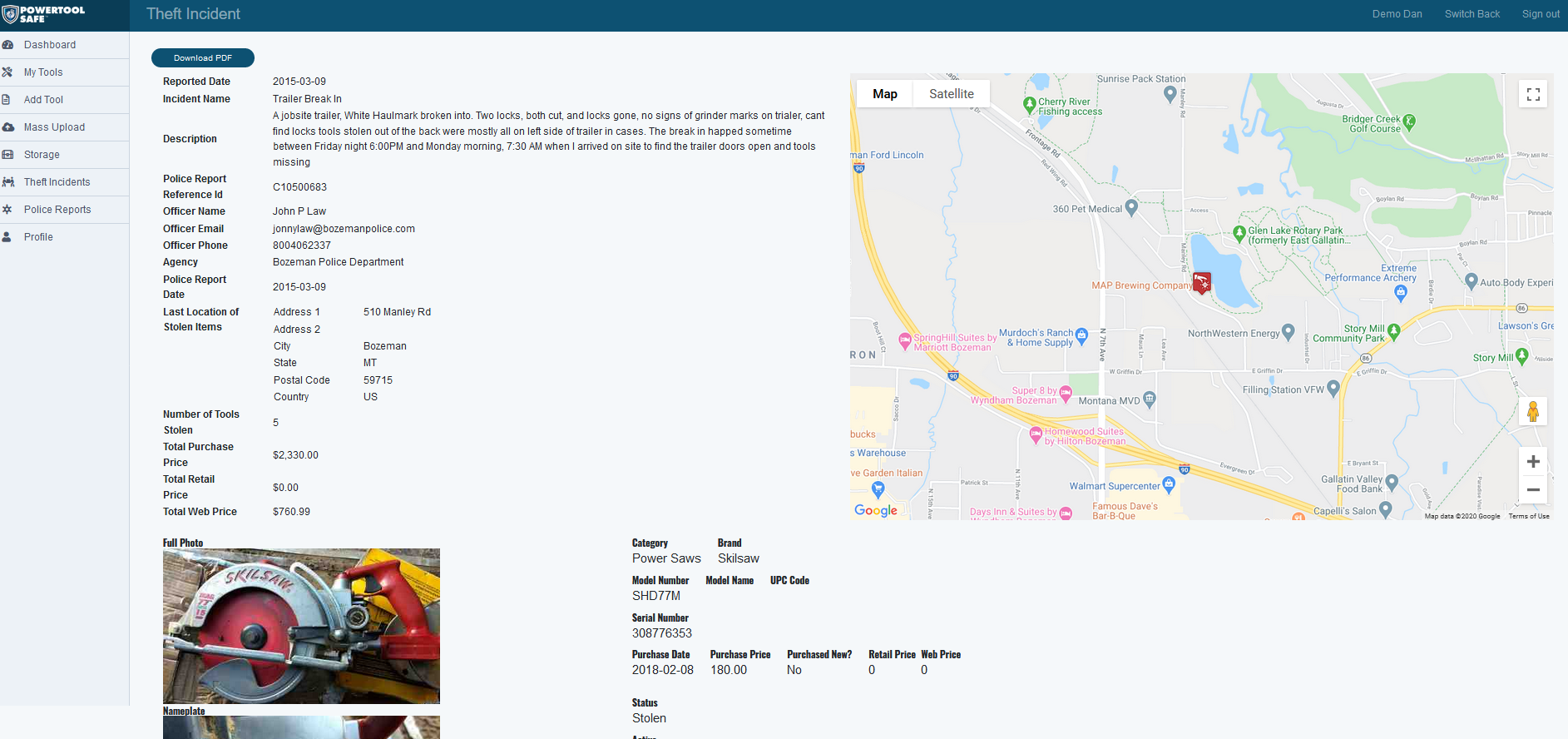 Don't let the name fool you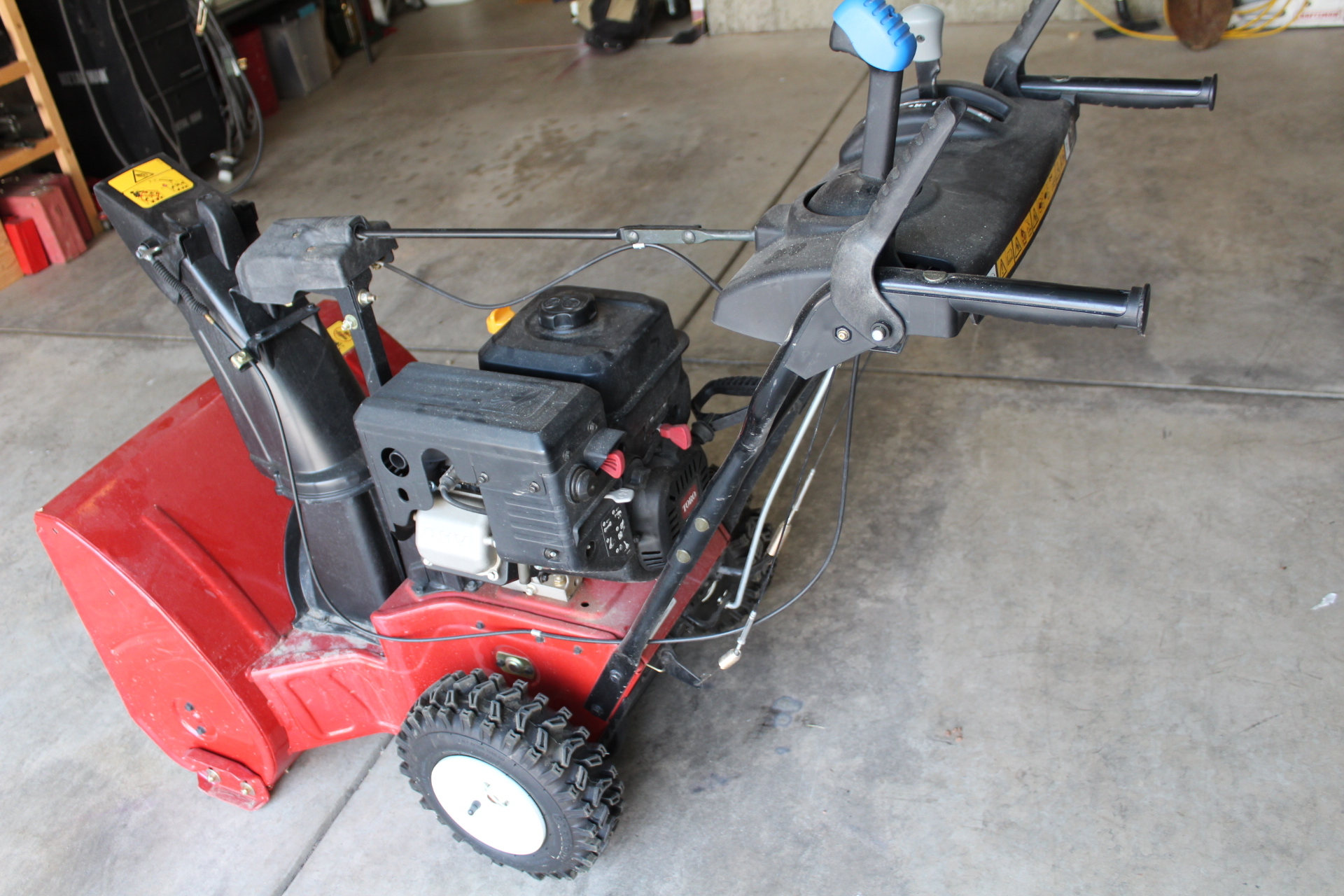 PowerTool Safe™ works exactly the same for all your valuable purchases. Keeping accurate records of all your prized possessions will give you the peace of mind you deserve.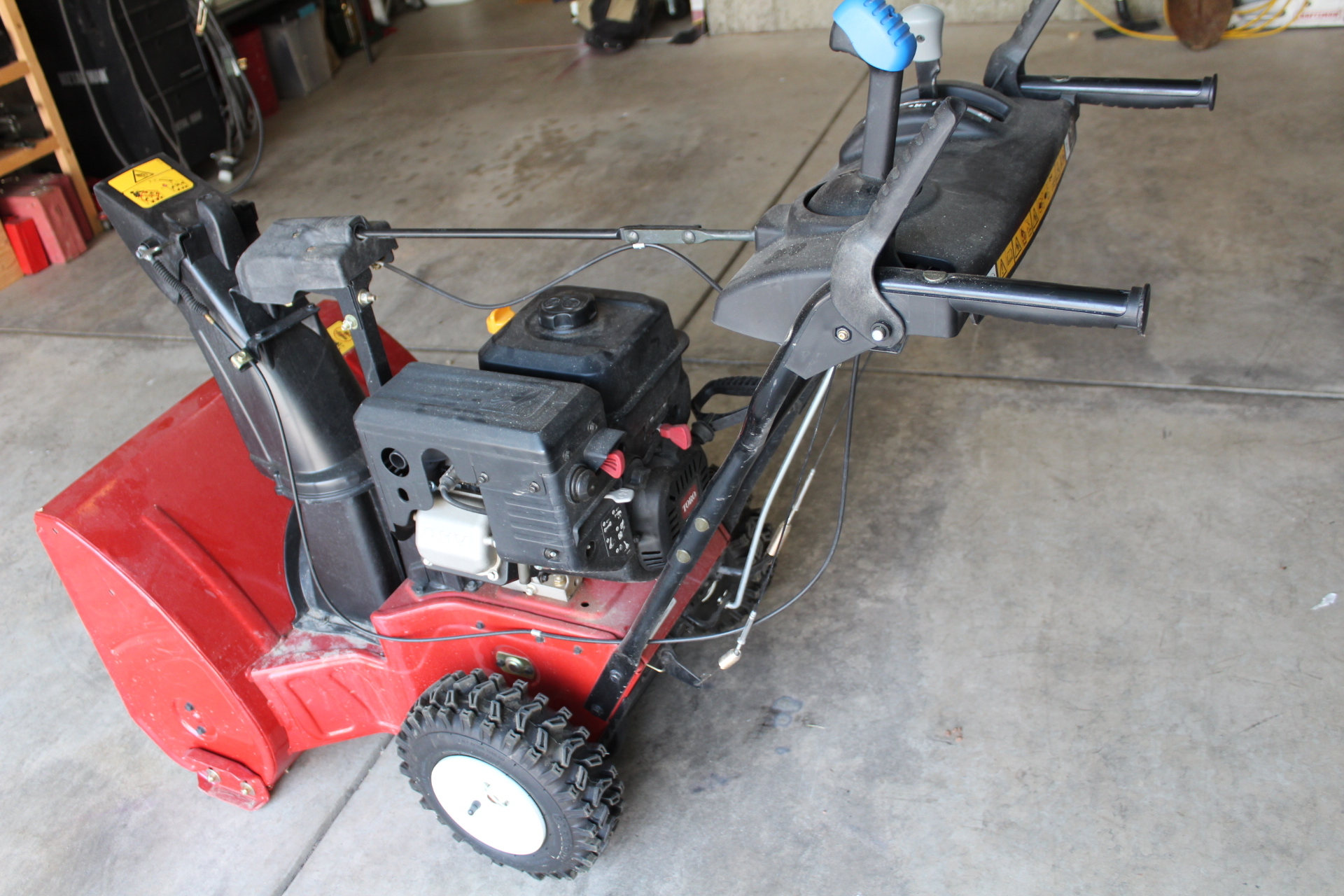 Over time, we lose track of the items we purchase. Fly rods, art, baseball cards, jewelry. Since most purchases or collections grow one acquisition at a time, we usually fail to keep an accurate running tally of these investments.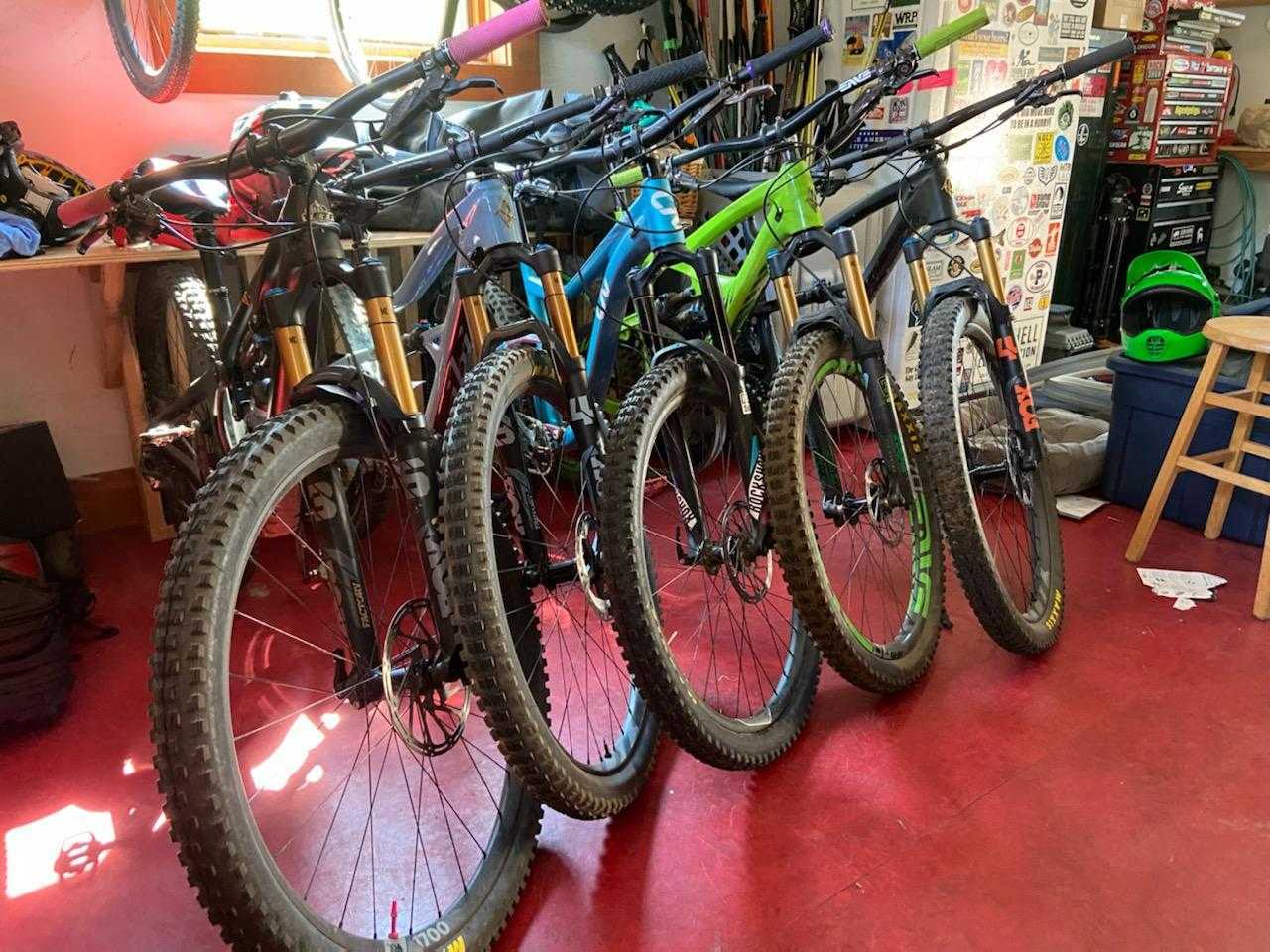 Do you have the documentation to accurately represent your losses if disaster struck? Imagine the peace of mind you can gain by having a list of everything, along with pictures and receipts, stored in the cloud?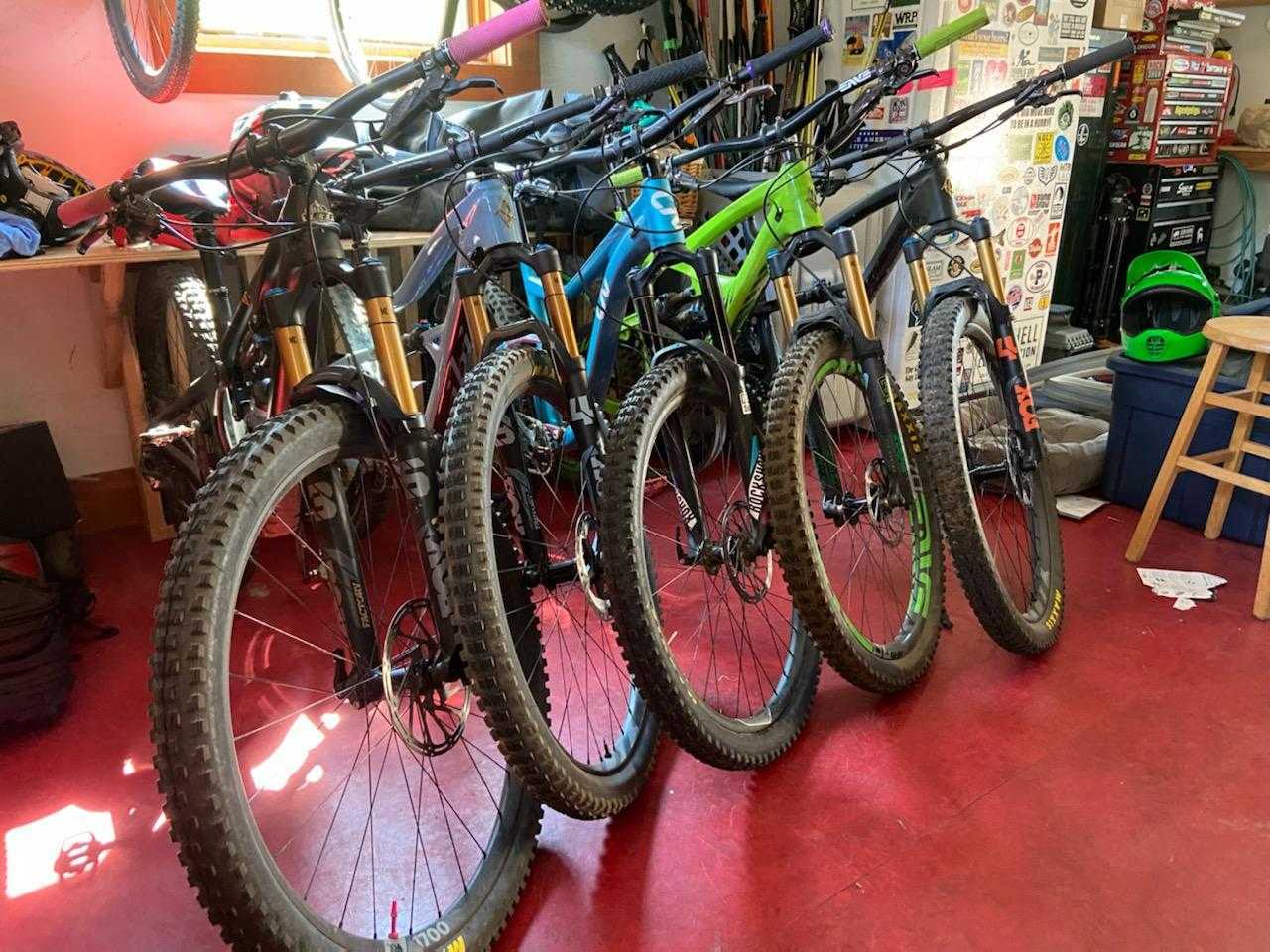 Within minutes, using the mass upload, you can quickly and easily catalog:
• Bikes
• Jewelry
• Coin Collections
• Art Collections
• Skis
• Lawn Mowers
• Snow Blowers
• Sporting goods
• Computers
• Hiking Gear
• Fishing Gear
• Appliances
• Furniture
• Musical Instruments
• Anything!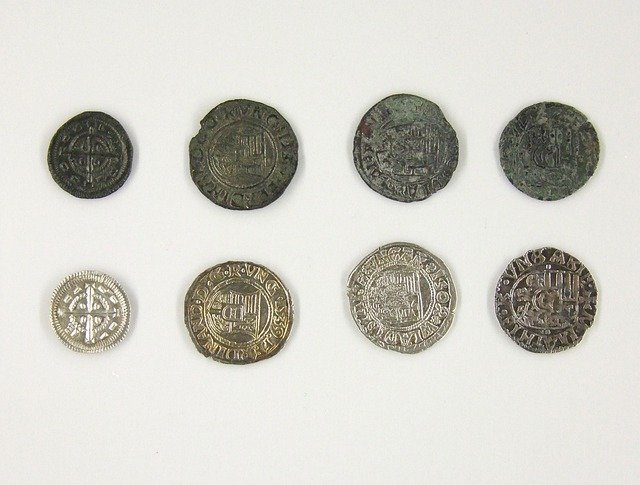 Peace of mind you can rely on
Whether its theft, flood, or fire, we have your back. PowerTool Safe gives you the peace of mind you deserve by helping you organize your records in a way that helps you get the most from your insurance claims with our accurate and comprehensive reporting. Once your valuables are photographed and photos are uploaded, you can create instant valuation spreadsheets and send them directly to your insurance agent for additional insurance coverage.
Sign up today for free and put PowerTool Safe to work for you.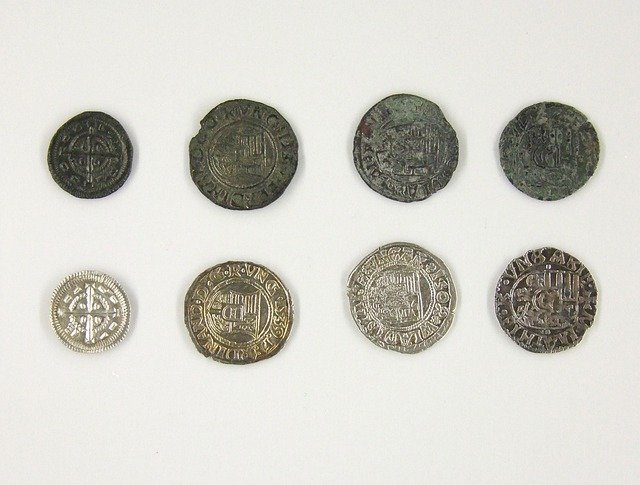 Designed for both Builders and Individuals
Mark your property missing or stolen
Receive instant alerts if ANYONE searches or tries to register your valuables
Generate PDF reports with photos, descriptions, and receipts
Generate customizable accounting and insurance reports
Instantly search online for your stolen goods
Save Your Clients Money
At PowerToolSafe™ our goal is to keep our customers working by safeguarding their equipment and minimizing their losses. We understand the value of security, organized information, and comprehensive reporting. We would love to partner with you to bring your current and new customers savings on Inland Marine Policies.
Sign up now to see how easy it is partner with us to save your customers money. We make it simple for them to instantly share their information with you. Just select Insurance Agent as the user type when you sign up for your free account.
Settle Claims Faster
Since PowerTool Safe allows builders to maintain comprehensive records of their insured items, they can fill out police reports much faster with less effort. They can also easily produce spreadsheets with their lists of tools and receipts to back up their values. This allows insurance companies to settle claims faster, providing a better experience for your clients.
Increase Sales
The best part is, when you sign up for a free PowerTool Safe Insurance Agent account, you'll gain access to your customer's tool information as soon as they authorize you to look at it. You can then close the deal and their tools are marked as insured in their own account.
But it gets better. If you're the first agent in a geographic area to sign up with an agent account, when a PowerTool Safe customer asks for an agent to contact them we'll pass the lead to you.
Go ahead and Sign Up Now and select "Insurance Agent" as your account type and you can get started!
Save Money and Reap The Benefits
PowerTool Safe pays for itself with the reports you need for substantial savings on Theft Insurance. Download Excel spreadsheets to get scheduled rates on Theft Insurance instead of paying the high cost of standard stated value policies. PTS sets you up for years of savings!
Jobsite trailer with 60 tools
Total tool and equipment value
$22,400.00
Inland Marine stated value quote
$621.25
Inland Marine scheduled rate quote using PTS reporting
$224.00
Total Savings
$397.25
Minimum cost for 1 year subscription
$300.00
Yearly savings
$97.25
Find Out Before It's Too Late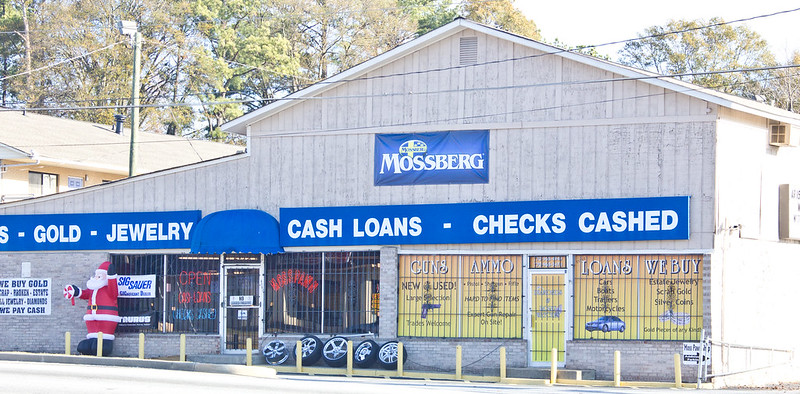 Information is power. Sharing the right information with the right people can have a massive impact on an entire industry.
Your jurisdiction probably requires you to report the serial numbers of anything you purchase and log them into a system, then wait a few days to find out if they were stolen. The problem is you've already handed the perp cash for the stolen item and when the police show up and recover that item you're out the money you paid to the thief. They're taking that right out of your bottom line.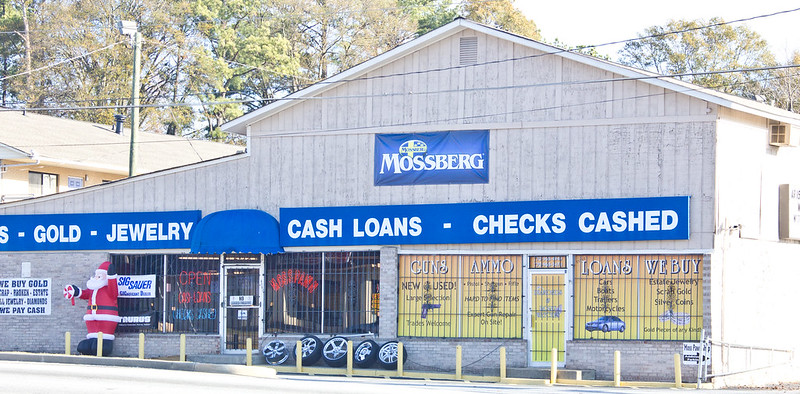 When our founder had the contents of his construction trailer stolen, he eventually found them at a pawn shop. Without PowerTool Safe™, everybody loses except the thief. We're going to change that.
What if there was a way to find out if the goods were stolen before you purchased them?
You can try out our Stolen Tools Search. This is a free service to the public. Tools stored in PowerTool Safe that are going to be sold can be marked "For Sale." If you check a brand, model, and serial number and it comes back as For Sale you can be sure that you're not buying stolen merchandise. If they've given permission, you can even see the profile picture of the rightful owner and compare it to the person standing in front of you.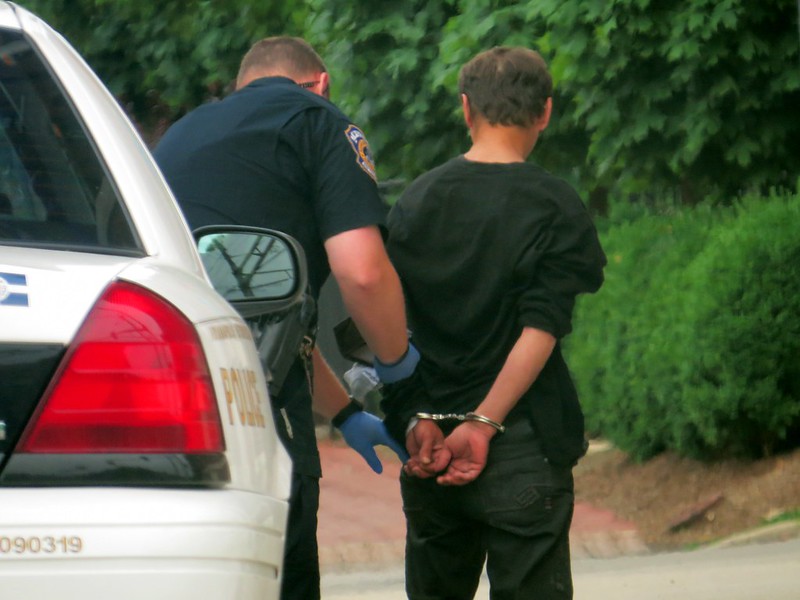 If the tool is marked as Missing or Stolen then you'll know right then. If a police report has been filed you'll get the name, email, and phone number of the officer on the case. Wouldn't it be great to watch the perps that have been costing you money led away in cuffs?
Our public stolen tool search has a limit as to how quickly you can perform searches. If you sign up for a free account with PowerTool Safe and are verified as a Pawn Shop owner or employee, you can perform unlimited searches.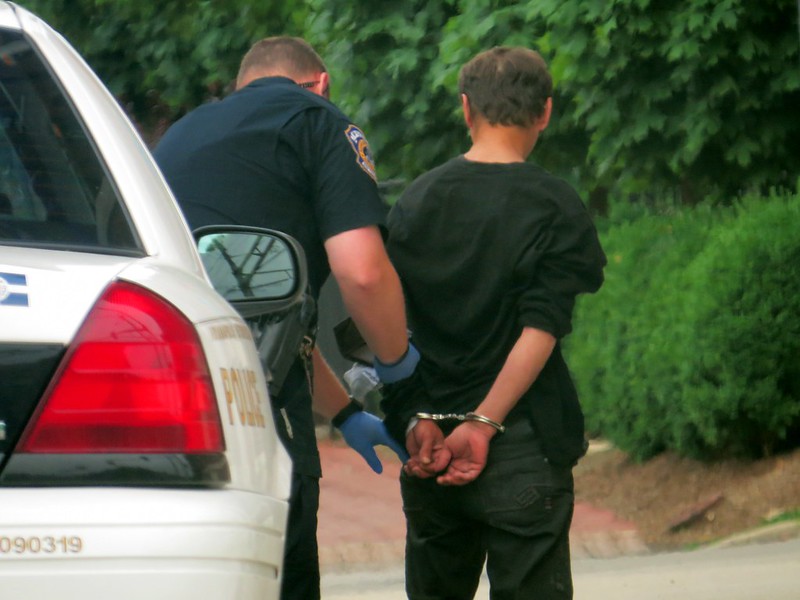 Stolen Tools
Experience Theft Annually
Let's Catch Some Bad Guys!
Tool theft harms the community. One of the more frustrating aspects of tool theft is that law enforcement often is able to recover stolen tools, but there's no way to match that to a rightful owner. That's why the recovery rate for stolen tools is only 25% -- often the tools are found but there's no way to match them to the owner. PowerTool Safe can help with our Stolen Tool Search. Just enter the Brand, Model, and Serial Number of the recovered tool and we can put you in contact with the rightful owner.
We're working to provide lots of capabilities to law enforcement to help track down stolen tools. Many times citizens will be victims of theft but don't bother to fill our a police report because gathering all of the needed data just isn't feasible. They don't have pictures of their tools, serial numbers, and receipts to prove they own it. PowerTool Safe™ customers have all of that at the click of a button.
Another issue is that not all victims fill out police reports. If their tools weren't insured they often won't bother because of the paperwork. But with PowerTool Safe, a tool can be marked stolen with the push of a button. By making theft incidents easier to report, more people are likely to report their losses, and tool recovery rates will increase.
Let us know how we can help. We want to #StickItToTheBadGuy!
Stolen Tools
Experience Theft Annually
Even retailers are affected by tool theft
Good Record keeping is key to small business success. Unfortunately, builders build. Record keeping is not their forte. When a builder experiences theft, one of the first places they turn to is the retailer in hopes that they may still have the original purchase records of their stolen tools. This can be a lengthy drain of time on store staff that PowerTool Safe is working hard to eliminate.
Theft costs the construction industry over $1 BILLION every year. Imagine a world where every power tool sold is instantly entered into PowerTool Safe™ to protect your customers, support law enforcement, engage pawn shops, protect your customers, and your community.
PowerTool Safe to the Rescue
PowerTool Safe provides a kiosk style system that integrates with a retailer's check out flow capturing sales records for their customers and setting up automatic accounts where customers can access these records, and all the other tools and benefits offered. By capturing tool purchase info at the Point Of Sale, retailers can leverage PowerTool Safe to offer their customers a revolutionary new level of service focused on customer protection. You'll provide a much needed service to your community while reducing your costs and improving your bottom line.
• Add a quick step to your checkout flow to instantly capture tool sales data
• Every customer gets a free PowerTool Safe account, loaded with brand, model, serial numbers, stock tool photo images, and receipt images
• Increase sales and customer loyalty by providing a superior service
• If your customer experiences theft, they have all of the information they need for a police report
• Your kiosk can track customer requests for items that aren't in stock. Pull a quick report when the items arrive and call or email your customer
• You'll be able to take advantage of powerful analytics that go way beyond what is available from your Point of Sale system
• Setting up automatic accounts. Customers now have all their purchase records and all the other tools that come with a PTS account. Isn't it time to give your customers something more?
Are you an industry leader?
How do you stack up against your competition? Are you a retailer looking for a competitive edge? Contact us today to see to see how PowerTool Safe can help you lead the way in your industry. See first hand the many benefits that PowerTool Safe can bring to you, your customer and your community.
Sound interesting? Drop us an email and we'll be glad to discuss how to get you set up.
This is your opportunity to become an industry leader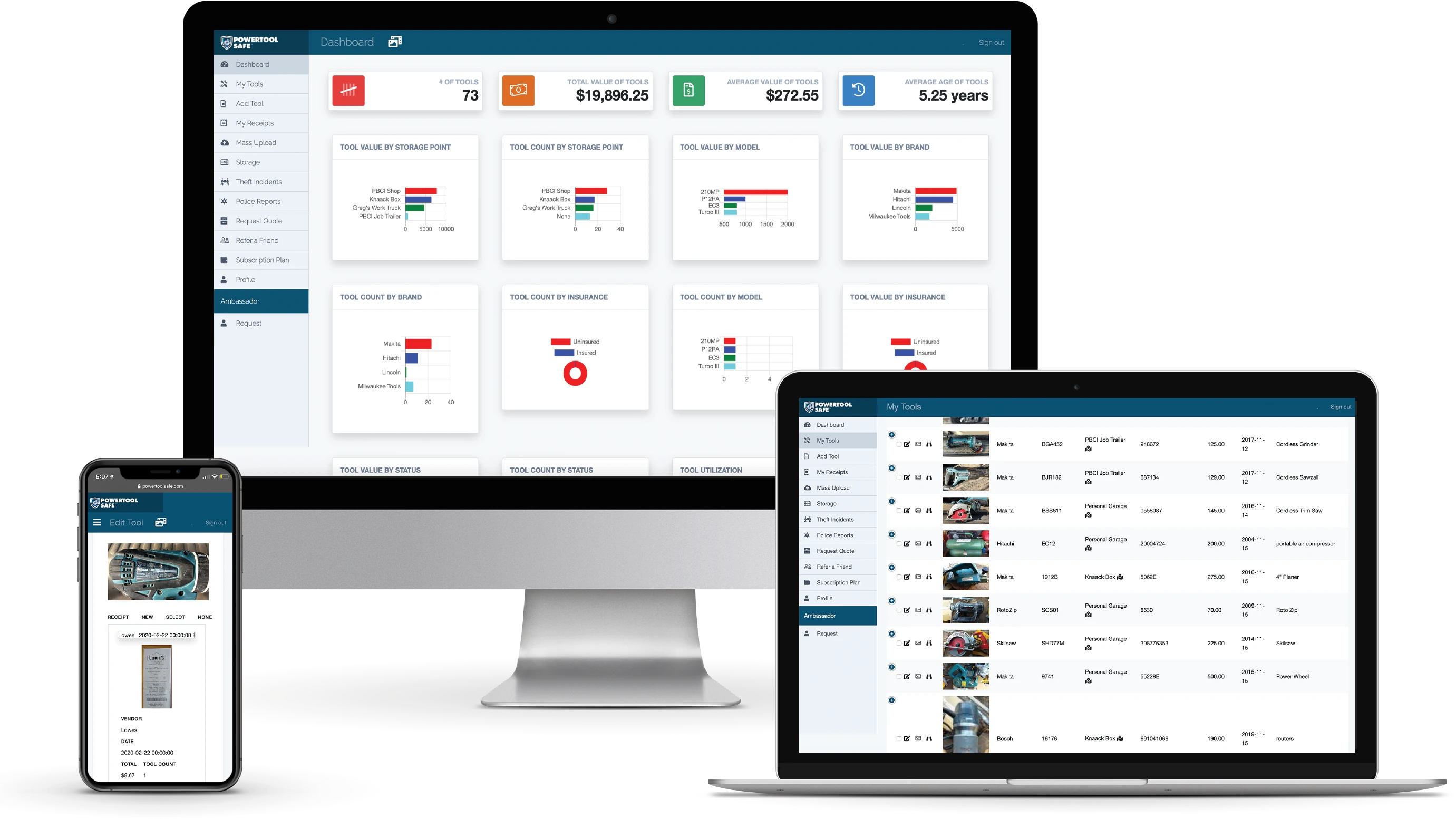 PowerTool Safe is an online registry where you can upload power tool receipts and serial numbers -- and give your customers a way to navigate the pitfalls of construction theft while helping law enforcement connect stolen tools back to the rightful owners.
All the tools you need:
Instantly Access and Share Records
Cross Check Tool Purchases
View and Email Original Receipts
Protect Customers from Theft
Customers Get Free Accounts
Increase Sales and See Results
Strengthen Your Reputation
Now is a good time for a career change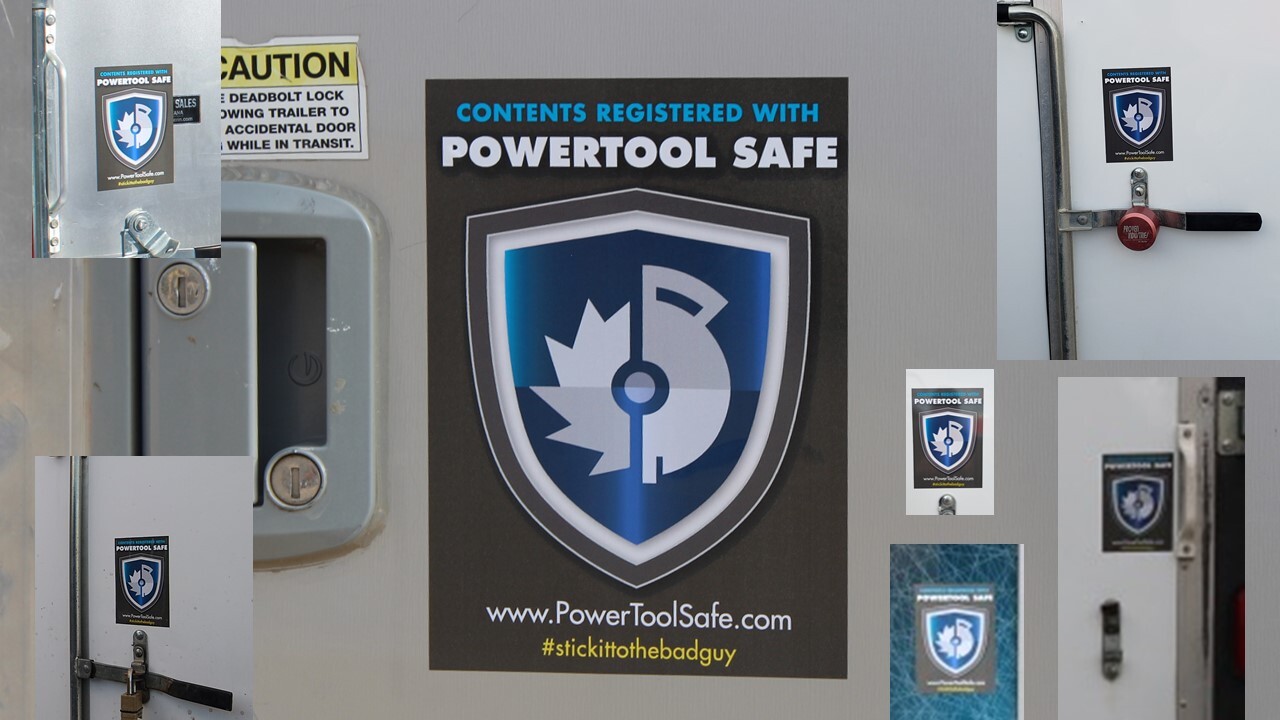 All right, you dimwitted, five-finger discount derelicts. Consider this your warning. You should seriously consider a career change because we are are going to make your life miserable. It is our goal to give every customer the tools they need to #StickItToTheBadGuy.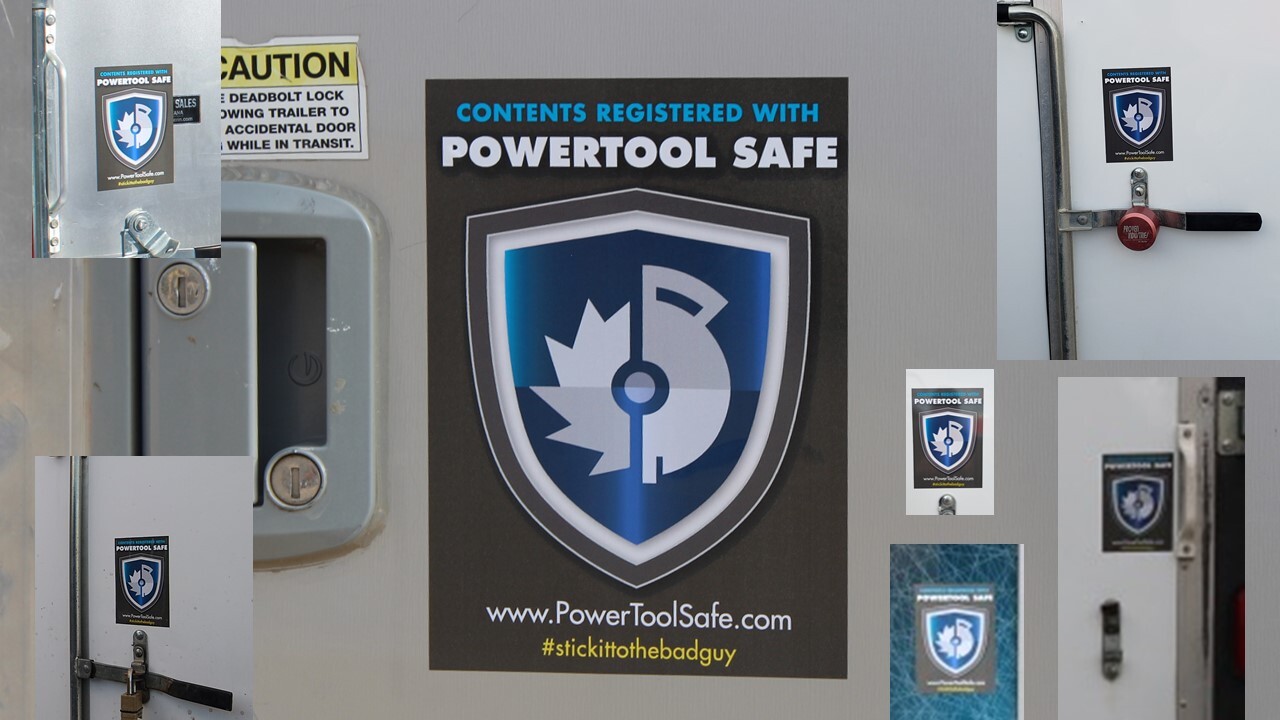 See these trailers? See the "Warning, Contents registered with PowerTool Safe™?" Sure, you could waste your time breaking in and stealing everything, but you won't be able to sell any of it.
The pawn shop you take them to can check our database and see that they're stolen. They'll just call the cops while you're standing there like the idiot you truly are. If you dump the tools somewhere and the police recover them, they'll be able to get them back to their rightful owner. Want to sell them on Craigslist? The cops have already been notified and we've given the tool owner the ability to search for their tools across several websites. That buyer that's hot to purchase your tool? They're probably just an undercover cop.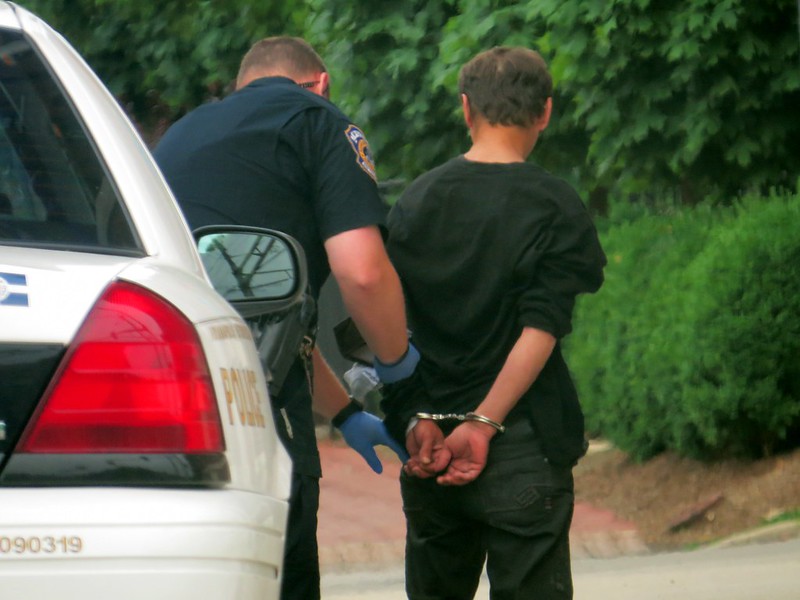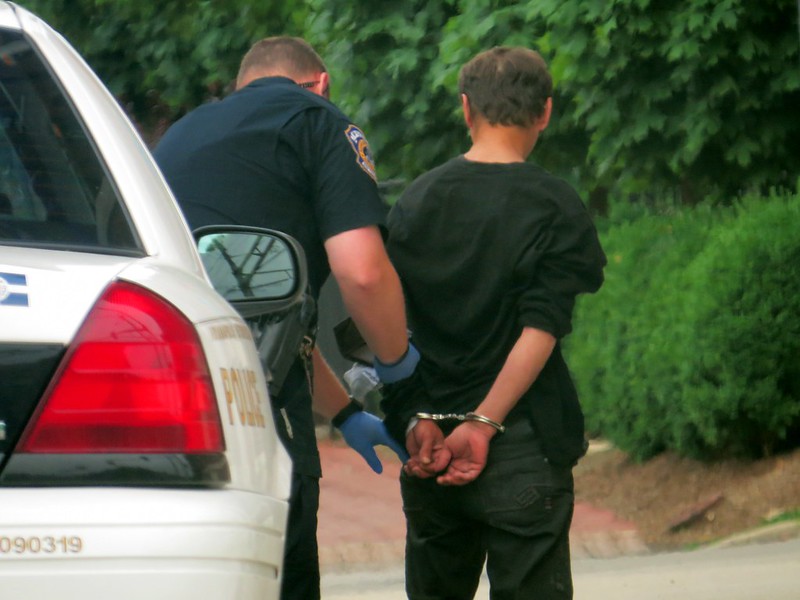 When you see this sign, know we mean business. When you mess with the contents behind this sign, know we are coming for you. Because to us, tool tracking doesn't end until you are behind bars.
It's going to be hard to sell anything you steal because anyone can do a Stolen Tool Search and learn whether the tool they're about to purchase is stolen. Now, you stuck up, half-witted, scruffy-looking Nerf herder, you might be thinking to yourself that you'll just check to see if the tools you've stolen show up in our database. Go ahead, we'll hand your IP address and whereabouts over to the police.
Yeah, your career just took a bad turn. We're going to #StickItToTheBadGuy and you're the lucky one.
Integrate With Ease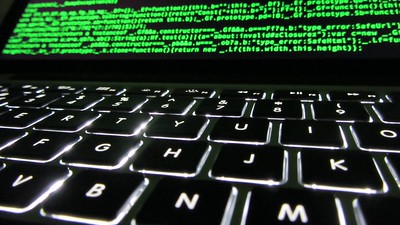 Are you a potential partner that would like to give your customers the security of having their possessions protected by PowerTool Safe™? Online retailers, SaaS applications, or even just large enterprises can integrate with our system seamlessly through our open public API.
For example, an online retailer can add a few simple API calls to their checkout flow and automatically create a new PowerTool Safe account for their customer, add tool purchases, upload receipts, perform lookups, and even update specific fields such as serial numbers. Your customers will no longer be forced to contact you to look up receipts and serial numbers when they need to recover their information, they'll have everything at their fingertips in their very own account. You can even upload the entire purchase history of a customer so they've got a complete record of everything they've purchased from you in their account.
Another use case is a SaaS application that serves the construction industry. Automatically create accounts for your customers, let them update their own tools, and then (with the customer's permission) query for data on those tools. Perhaps you have an asset management module, but you want to offer the capability to store and maintain images, purchase history, receipts, etc. Plus your customers will get the peace of mind of theft prevention, police reports, etc.
How it Works
Sign up for a developer account. You'll be issued a developer key for both the sandbox and the production system.
Add the API calls to your systems. Each customer you add must have opted in for an account. The API is rate limited to 6 calls per minute, contact us if you need a higher bandwidth.
Start adding accounts. Accounts that you've added can be queried and updated via the API as long as the customer has also opted in from our system to allow you that access.
And that's it. Let's get started!
What are you waiting for?
You needed this last time your tools were stolen — don't be caught unprepared again!

© 2022 PowerTool Safe Inc. All rights reserved.
PowerTool Safe is a registered trademark of PowerTool Safe Inc. Terms and conditions, features, support, pricing, and service options subject to change without notice.
By accessing and using this page you agree to the Terms and Conditions.